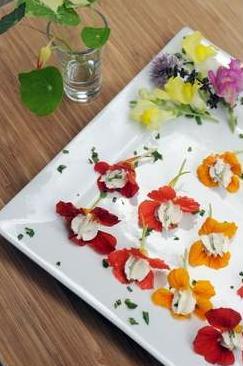 Worcester Living Magazine recently collaborated with Pepper's Fine Catering for their June 2012 issue on edible flowers, offering a look into the horticultural side of cooking. The following is an excerpt from "Edible blooms are colorful, flavorful additions for summer dishes," authored by Barbara M. Houle.
John Lawrence is a chef who can create crowd-pleasing foods and party-perfect drinks to make summer get-togethers fabulously easy and fun. He also knows how to get the most out of a garden.

Lawrence and his wife, Susan, own Pepper's Fine Catering in Northboro, where they maintain 10 raised garden beds in summer and early fall. Their kitchen gardens are a little slice of botanical heaven, offering fragrant and colorful edible flowers, a myriad of pepper varieties and must-have herbs. A favorite edible bloom is nasturtium, a colorful addition to any garden, according to Lawrence, who explained that the annual flower's mild, peppery taste makes it excellent in salads. Nasturtiums in a wide range of colors bloom from midsummer until frost. "The more you pick, the more they pop," said Lawrence. Double and semi-double flowers make a great presentation as a plate garnish, he said. Daylilies are another edible delight in the garden. So are Johnny-jump-ups and pansies, both colorful additions to salads made with tender, young greens.

Basil, parsley, rosemary, sage, lovage, tarragon, cilantro and lavender are just a few of the other plants that flourish. Fresh and dried herb leaves are used as food flavorings by the chefs. The plants have both culinary and ornamental uses; each plant contributes to a beautiful garden design, said Lawrence. Pepper's is an award-winning company deeply rooted in the horticultural community. It has catered weddings and special functions at Tower Hill Botanic Garden in Boylston for 24 years and numerous events at Massachusetts Horticultural Society's historic Elm Bank in Wellesley and Tyrone Farm, a country estate in Pomfret, Conn.

John Lawrence routinely gives cooking classes and demos at the Clarke Culinary Center in Milford, using locally grown ingredients whenever he can. He and his wife are strong supporters of local farms."
You can find the entire article, which includes some of John's delicious recipes, in the June 2012 issue of Worcester Living Magazine. Pick up a copy at your local newsstand or give Pepper's a call and we'll be happy to forward one to you!
For more information about Worcester Living, visit them at http://www.telegram.com/section/WorcesterLiving