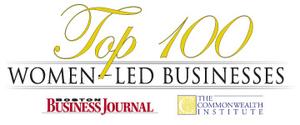 We here at Pepper's Fine Catering are thrilled to announce that for the second year in a row, we have been selected by The Boston Business Journal and The Commonwealth Institute as one of the Top 100 Women-Led Businesses in Massachusetts.
Susan Lawrence launched Pepper's in 1987, after amassing extensive experience on the business side of the food industry. Today she runs the company with her husband, John, who also serves as head chef. Under Susan's direction, the company has grown to include 24 full time employees and partnerships with leading area venues such as Elm Bank, Tower Hill Botanic Gardens, Hanover Theatre & Mechanic's Hall.
Over the 25 years they have been doing business, Pepper's has solidified a reputation for delivering outstanding events. The guidance they provide extends beyond the intricacies of the menu to include lighting, food presentation and customer service. Specializing in contemporary regional and international meals, all offerings are prepared using fresh, local ingredients—many from John and Susan's garden, with nine 20-foot beds of organically grown herbs, produce and edible flowers.
"When I started Pepper's 25 years ago, I had a vision of what kind of company I wanted it to be," says Susan. "Being able to realize my vision has been the most rewarding aspect of my career. I'm proud to lead a company that not only incorporates excellent food, but excellent people, too."