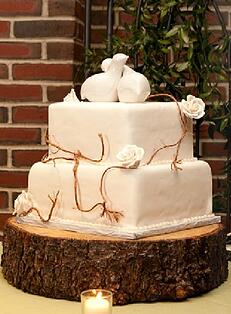 Worcester's Bride and Groom Magazine recently published their spring 2013 issue, featuring a four-page spread of the May 2012 wedding of Pepper's Fine Catering clients Ryan and Jacqueline McMullen. The wedding was held at Tower Hill Botanic Garden in Bolyston and catered by the Pepper's team.
Jacqueline has a special relationship with Pepper's, she is a former employee! We were thrilled to become part of her and Ryan's special day, and to create such special memorable moments for the two of them and their guests. For the couples' garden wedding, they wanted to tie in an element of nature by incorporating both significance of "love birds" and their shared appreciation for travel. To set the right tone, faux bird nests, bird cages, and leaves were placed throughout the venue, as well as a scrapbook of destinations the couple visited together.
The appreciation of nature was complemented in the food design, as well. Desserts were served atop a slab of natural birch with decadent twigs and leaves distributed around. The most striking element of dessert was of course the cake. Keeping with the theme, we incorporated love birds made of porcelain as the cake topper and used an actual tree stump to set the cake on.
Each unique touch contributed to a magical wedding that encapsulated Jacqueline and Ryan's affection, tastes and chemistry.
To read more about the McMullen's ceremony and to view photos from the event, click here and head to page 24.