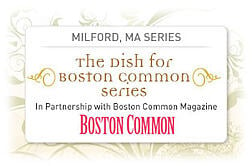 The Clarke Culinary Center in Milford, Massachusetts announced their schedule of cooking classes featuring the finest chefs in the region sharing their love and excitement for food as well as a little of their expertise. If you love food, check out their schedule of upcoming presentations at Clarke Culinary Center.

On December 16, Peppers Fine Foods Catering's John Lawrence will host his own cooking class at Clarke, "Get Out of Your Shell – Scallops! Scallops! Scallops!"
If you love shellfish, this event is for you; featuring some of Chef John's favorite award-winning sea scallop recipes such as Wild Mushroom Crusted Scallops with Vanilla Bean Scented Parsnip Puree, Roasted Scallops with Fennel Jus and more!
Where: Clarke Culinary Center - 393 Fortune Blvd, Milford, MA
When: Thursday, Dec. 16, 2010 - 6:00pm to 8:00pm
Cost: $70 per person
To Register: Call 1-800-842-5275 x206 or visit Clarke Culinary Classes for more info and directions
Get out of your shell and join Peppers!