Southern New England Living magazine, a new publication dedicated to highlighting the many great aspects of Southern New England, met up with Pepper's co-owner, John Lawrence, to get his insight on planning the perfect house party. Below is an excerpt from "House Party: Tips from the Pros on Planning Your Next Get-together in Style, without All the Stress," by Rachel Arroyo.
Carefully Conceptualize the Menu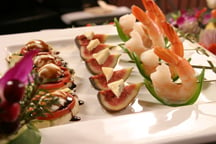 Food and beverage are central to ensuring a memorable at-home gathering. John Lawrence - who has co-owned Pepper's Fine Food Catering in Northborough, MA, with his wife Susan for 24 years - says, since 9/11, people have changed the way they entertain. "Before people were entertaining all around, in crazy locations and spending a lot of money. Now it is more of an intimate experience." Don't get him wrong, "People are still having big parties, but the guest list is filled with people they know and love, first and foremost."
Lately he has been seeing a lot of requests for Latin American cuisine. "Ceviches are popular, but with our local ingredients," says Lawrence. Mojitos are also big. And even though he thought the cupcake trend was going to die off, it's still going strong. "They've become more inventive," he says, "branching out to include interesting fillings like pina colada and Baileys Irish crème - fun twists on old favorites." A streak of whimsy seems to have taken the party scene by storm. He reports: ''I'm seeing a lot of colors, lively linens in polka dots and lime green."
For crafting the perfect get-together, Lawrence offers a few tips. One: "Think whimsical and think fusion," he says. For instance, if you're using Asian lanterns, go with lime green instead of the traditional red. "It sets a tone." Two: Greet your guests with a cocktail. Cava, a Spanish champagne, is a great value and can be mixed with watermelon or pomegranate juice for a fun, mildly alcoholic drink. Three: "You've got to have the music," he says, but don't stress about the playlist. Go to Pandora - an online radio station - and pick your favorite artist or musical genre. Four: "Keep the menu fork friendly," a rule he lives by. People shouldn't have to put down their plates to cut bit-sized portions of food. And, lastly, "Consider the guest list," he says. Invite outgoing, talkative people to create an atmosphere for conversation.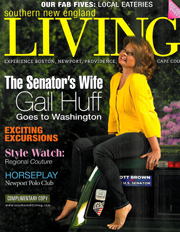 You can find the complete article in Southern New England Living's premier issue, which debuted this month. Pick up a copy at your local newsstand or give Pepper's a call and we'll be happy to forward one to you!
For more information about Southern New England Living, visit http://www.southernNELiving.com