The First Harvest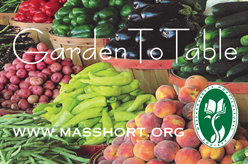 The Massachusetts Horticultural Society kicks off its Garden to Table initiative with the The First Harvest, a 3-course tasting prepared by Pepper's Catering Chef John Lawrence. The tasting will feature some of the earliest greens from their Chef's Garden, a 22-bed vegetable garden designed to inspire culinary combinations. Join Chef Lawrence as he prepares a wonderful Spring Pea Panzanella Salad, Preserved Lemon & Lovage Risotto and succulent Citrus Grilled Scallops.
The Massachusetts Horticultural Society Garden to Table program was designed to promote the benefits of local harvest and growing your own foods through educational events and cooking demonstrations. Along with the Chef's Garden, the Massachusetts Horticultural Society also planted the Pantry Garden to serve the needs of a local food pantry.
Where: MHS Horticulture Center at Elm Bank, 900 Washington Street (Rt. 16), Wellesley, MA
When: Monday, June 6, 2011 6:00 – 8:00 p.m.
Cost: $45 per person (space is limited)
Reservations can be made by calling 617.933.4995 or by ordering online here.