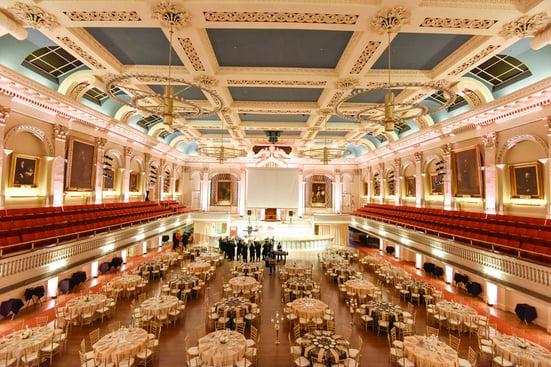 Mechanics Hall,
located in downtown Worcester, offers over 14,000 square feet of elegant and historic function space. The venue can accommodate event ranging from 10 to 1,600, making it an ideal location for a wide variety of events from large galas, weddings, and fundraisers to corporate meetings, family celebrations, and conferences.
The
Great Hall
is Mechanics largest function space and is widely considered an acoustic masterpiece boasting of pure elegance. This breathtaking function space features a richly decorated coffered ceiling, beautiful architecture, a balustrade balcony, and corinthian pilasters.
Washburn Hall
is the next largest space and can be used for
dinners,
receptions, business meetings, and other events. More intimate
gatherings are hosted in the Boyden Salon, the Board Room, or the
Dickens Room.


19th-century elegance, modern amenities, superior acoustics and red carpet service combine to make Mechanics Hall a superb rental venue.
Contact us to learn more about hosting your event at Mechanics Hall.
Photo by HJM Photography.
©Lindsay Hackney Photography