---
PERFECT FALL COCKTAIL
APPLE OF MY EYE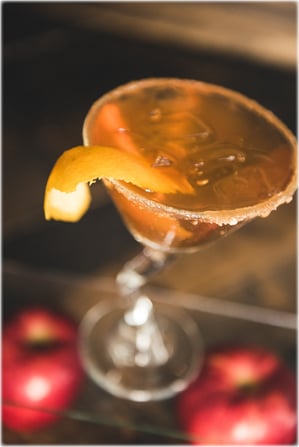 A perfect cocktail to compliment the fall season with a
delicious blend of fresh apple juice, whiskey, allspice dram and a dash of bitters.
Allspice dram originated in the tropical hills and valleys of Jamaica, the allspice berry has for generations been prized for its exceptional tastes of clove, cinnamon, and nutmeg.

Ingredients
1.5 oz Rye Whiskey
.75 oz Fresh Apple Juice
.5 oz Allspice Dram
2 Dashes Peychaud's Bitters

Steps
Dip the rim of the martini glass in fresh apple juice then in a plate with
cinnamon sugar.
Shake together all ingredients with ice then strain over rimmed martini glass.
Garnish with a tart apple slice or orange peel.
---