Apricot Almond Chicken Salad
Our Apricot Almond Chicken Salad has been a staple on our sandwich catering menu for many years and is by far one of our most popular. Now you can enjoy this recipe at home from our kitchen to yours.
Makes 16 Servings
Chicken Salad Ingredients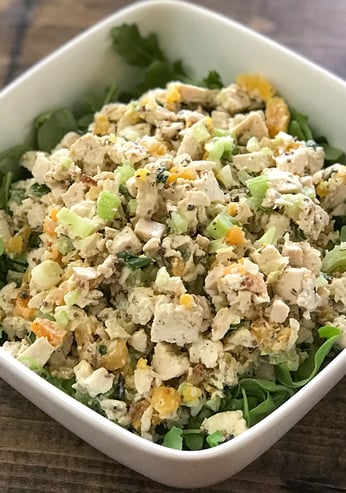 3 lbs Boneless Chicken Breasts
1 Box of Chicken Stock
4 Celery Stalks
1/2 Bunch of Scallions
1/2 Cups Sliced Toasted Almonds
½ Cup Dried Apricots
¼ Cup Dry Sherry Wine
6 sprigs of Rosemary Chopped
Black Pepper to Taste

Dressing Ingredients:
2/3 Cup Dijon Mustard
1/4 Cup Whole Grain Mustard
1/4 Cup Heavy Mayo
¼ Cup Sour Cream
1/8 Cup + 1 TBS Honey
Juice From Half a Lemon
Directions:
Fill a pot with chicken stock and heat to a boil. Place chicken in pot and poach until cooked through (roughly 25-30 minutes). Let cool and cut into small cubes.
Dice apricots. Heat dry sherry wine on the stove. Once heated drop in diced apricots for 2-4 minutes until soft then drain.
Combine all dressing ingredients together and mix well.
Combine all chicken salad ingredients in a bowl and mix well.
Add dressing to bowl with chicken salad and mix.
Enjoy as is, on top of a green salad, or add to your favorite sandwich bread.