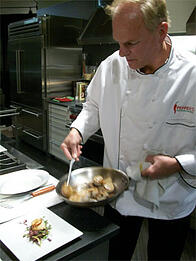 Chef John Lawrence loves the Clarke Kitchen showroom in Milford, MA for its incredible appliances and gorgeous facility. He is also very grateful to them for hosting the Clarke Culinary Center Chef Series, which offers the public the opportunity to enjoy memorable culinary experiences in their two beautiful showrooms.
Chef John hosted a wonderful shellfish presentation right before the holidays and delighted guests with incredible dishes that included Cocoa Scallops with Vanilla-Scented Parsnip Puree and Bouillabaisse Seafood Sausage. Guests were able to sit back, sip wine and watch and learn as Chef John walked them through each dish as he prepared it. Then the best part – guests savored every dish as part of the evening.
If you missed December's event, don't miss the "Top That" event on February 17 that will feature both Chef John and Pepper's Executive chef Paul Wilson! Chef John will prepare three innovative seasonal vegetarian dishes and then Pepper's Executive Chef Paul Wilson will "Top That" with three seafood or meat items that top or complement the vegetarian dishes. This fun, engaging demonstration will utilize New England-raised, grown, or caught items and promises to be a very enjoyable event. Sign up today!
Bouillabaisse Seafood Sausage
by Pepper's Fine Foods Catering
Yields (8) 4-oz servings

Ingredients for Bouillabaisse Seafood Sausage

½ pound sole fillets
½ pound dry sea scallops, side muscle removed
6 ounces heavy cream
1 egg white
Pinch saffron
2 teaspoons orange zest
2 scallions, finely chopped

1 tablespoon fresh tarragon, finely chopped
5 ounces white wine
1 tablespoon fresh rosemary, finely chopped
1 teaspoon fresh thyme, finely chopped
3 ounces lobster meat, diced
3 ounces dry sea scallops, diced
3 ounces shrimp, coarsely chopped
Salt and pepper to taste
Directions
In a chilled food processer bowl, puree the sole fillets and ½ pound of scallops. Add heavy cream and egg white and blend thoroughly. Empty seafood mixture into a large mixing bowl and fold in remaining ingredients.
Roll out a 12-inch sheet of plastic wrap. Place seafood mixture into a pastry bag (no tip needed) and beginning piping a straight line onto the plastic wrap, starting 3 inches from the top of the plastic sheet and 1 and half inches from each side. The piped mixture should be about 1 and half inches wide and 1 inch high.
Take the bottom edge of the plastic wrap and fold it over the piped mixture. Run your fingers along the top edge of the roll (where the plastic meets the mixture) to create a seal and remove any trapped air. Carefully roll the piped mixture toward the top of the plastic sheet. When finished, pinch each end of the roll where the mixture ends and begin to twist the ends until the roll starts to tighten; once the roll feels firm, tie off each end with string.
In a 3-inch sauté pan, bring water to a simmer (do not boil). Place the seafood roll in the water and poach for 12-15 minutes, rotating the roll every 2-3 minutes. Remove and place into an ice bath for a minimum of 30 minutes. When cooled completely, remove plastic wrap.
SERVING SUGGESTIONS
In a sauté pan, add 2 tablespoons of olive oil, slice sausage and sauté until golden brown on each side.
Serve Bouillabaisse Seafood Sausage as an hors d'oeuvre on top of crostini or bruschetta with your favorite seafood sauce or alongside filet mignon for tasty surf n' turf entrée. It also makes a wonderful accompaniment to your favorite pasta dish!