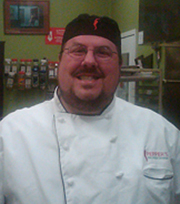 Chef Desy joined Pepper's Catering in 2007 and has been a professional chef for more than 10 years. He is a graduate of Johnson & Wales University and a vital member of the Pepper's culinary team, providing a level of culinary expertise, professionalism and work ethic that is surpassed by few.
When did you decide you wanted to be a chef?
I worked for a meat company during my college years and quickly discovered the many opportunities the food industry offered. I've always had a passion for food so the decision to switch was an easy one. It took me a while to see the path, but my grandmother knew I would be a chef the first time I helped her in the kitchen.
Where and when did your career in food begin?
I started my culinary career as a banquet cook in 1998.
What influences your cooking style?
Seasonal and local ingredients are my biggest influences. Right now I'm focused on Asian influences.
What was most spectacular meal you've ever had?
I was fortunate to enjoy Omakase (an 8-course tasting menu) at Morimoto in Philadelphia. The flavors of each dish were extremely clean and subtle but very complex. The service was flawless and left you wanting for nothing. The whole experience allowed me to enjoy the essence of Chef Morimoto's cuisine.
Do you have a favorite culinary destination?
I like restaurants with variety so I'm always on the lookout for some place new. Not Your Average Joe's has been a long-time favorite. Its casual atmosphere, diverse menu and consistent quality keep me coming back for more.
What is your best cooking tip for the home enthusiast?
Keep it simple and let the food speak for itself. Recipes are a guideline (unless you're baking) so I always add an extra ingredient or two to make the recipe my own.
What is your beverage of choice?
Beer, though I've been enjoying a variety of wines lately.
If you didn't become a chef, what would you be?
Psychology was my major before changing career paths. I would probably go back to that field in some capacity.
What are your favorite culinary weapons in the kitchen?
My most powerful tool is my mind. It's responsible for my creativity, food knowledge, attention to detail and organization skills, all of which are extremely important fundamentals of a chef.
What is the most unusual thing you've eaten?
Bizarre foods are not my thing, but I enjoy discovering unusual combinations like banana in bacon or curried blueberries and pineapple in egg salad. The most unusual meal presented to me was squid ink pasta with lobster and a Srirachi cream sauce garnished with bonito flakes. The bonito flakes were "pulsating" making the dish look alive! A common reaction but weird nonetheless – and yes, I ate every bite!