By Michele L.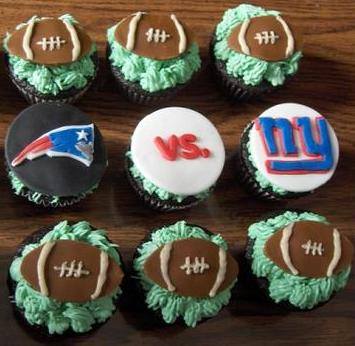 The Super Bowl is the game of the year—the one time when eating in front of the TV is encouraged and you may be able to coax your sports-detesting child into joining you on the couch to take in the game.
Whether you're a sports fan, a commercials fan, or just a fan of food—Super Bowl parties have a little bit of something for everyone. So why not include everyone in your Super Bowl celebration?
Don your Brady jersey, invite your family and friends, and make a play for Sunday, February 5th –we're going to show you how to score a touchdown with your Super Bowl party!
#1: Keep it Simple
The game and the guests will be high energy—don't add more complications into the mix, keep it simple!
Use paper goods instead of china or glassware
Stick to beer, wine and soda as opposed to stocking a full bar.
Don't feel as though you have to deck the house out with paper footballs and blue and gray streamers, food and festive atmosphere will go a long way in creating your party mood and the less is done, the more you get to enjoy the game too!
#2: Get Creative
If you want to decorate the home, there are easy do-it-yourself projects that can pep up your house for the game and get the kids involved in a fun craft. When it comes to decorations, a little creativity goes a long way!
Make a football field table cloth for the food table by taking a green table cloth and adding in numbers and lines to create the field using white felt or paint. A decorative party touch-done!
Send out homemade Super Bowl invitations shaped in the various symbols of the sport—flags, footballs, jerseys, ticket stubs—the possibilities are endless!
Hang felt flags on the wall and make jerseys out of construction paper numbered with the jersey numbers of your favorite players. To add to the décor, hang a home-made score board on the wall so everyone can keep track of the game.
Use interesting serving trays/bowls/platters. Try serving chips out of a (prop) helmet or serve hors d'oeuvres and desserts from a pelt of fake grass.
Make centerpieces for the table out of helmets filled with either fresh flowers or finger foods like chips and nuts. White PVC piping makes a great field goal post and mini-footballs or football shaped candles also make great table accents, too!
#3: Tailgate at Home
Do you have a small house or apartment? Don't let it stop you from playing host. Consider tailgating right at home! Tailgate in your driveway to pump up the festive mood—and where the comfort of the indoors is just a few steps away. Have everyone bring lawn chairs and blankets and bring it all outdoors for the big game. If your lawn is big enough, you can re-enact the action with an impromptu game of your own!
#4: Food/Drink
When selecting your beer or wine, get creative! Pick selections from the competing teams' home cities/states—offering a selection of beers from Sam Adams and Brooklyn Brewery, for instance.
Think about food the same way--seafood to represent New England and pizza to symbolize New York. If guests ask what they can bring, have a list ready to assign them dishes to prevent doubles or ending up with a bunch of chips and dip.
#5 Catering
Special event catering is also a great option for your Super Bowl party. At Pepper's, our special events catering expertise makes us a valuable resource for fantastic ideas relating to both food and décor.
Caterers have the advantage of being able to whip up innovative and party-specific food options that will make your party a winner whether the Pats take home the trophy or not!
Enjoy your Super Bowl Sunday and GO PATS!
(…or Giants for those of you rooting for New York!)
photo credit: clevercupcakes