By Liz O.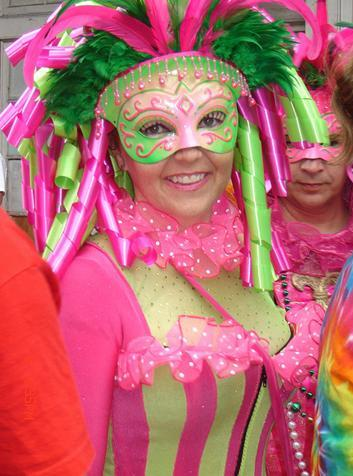 Holiday Parties are in our past and winter has settled in. All the more reason to break up the cold, gray days with a Mardi Gras celebration for you and your friends! Call up your Krewe, dial up the fun, and laissez les bons temps rouler (let the good times roll) because Pepper's is going to take you through the steps of throwing a spectacular Mardi Gras-themed party with these helpful special event tips:
1) Use traditional Mardi Gras colors of gold, purple and green on your invitations. Encourage party-goers to wear the colors, and even ramp it up a bit by offering beads hats and masks for your guests upon arrival. Use these same colors when decorating your home—the more dazzle the better.
2) Bring the French Quarter to your home by offering Cajun and/or Creole Cuisine. The difference between the two is highly debated, but is delicious no matter which way you spice it. Think Gumbos, Seafood dishes, Jambalaya, Rice and Beans and Sausage accompaniments. If you want to really bring The Big Easy a bit closer to home, go for Muffulettas (a sandwich-type food) and King Cakes (a sweet pastry baked in a ring with royal icing). We recommend consulting the online resources on Southern Living to assist in concocting the perfect southern-flavored menu.
3) Go like special event catering pros and offer a signature cocktail. This will help simplify your menu and ease the amount of items at your bar. For a southern twist, consider offering Hurricanes, Bourbon Spiked Lemonade or Mojitos—any of these will bring to mind images of southern porches and big floppy hats.
4) Be sure to have great music playing. Consider the southern styling's of big brass bands, or go softer and throw in some notes of jazz. Music is an important cultural piece for an event such as this, selecting the perfect musical accompaniment will go a long way in creating your party's theme.
Don't forget to plan your evening so you aren't spending the whole time in the kitchen heating things up! Most people plan terrific parties, but don't spend time with their guests because of disorganized planning. Developing a good plan goes hand-in-hand with developing a great menu—after all, parties should be enjoyed by the host/hostess as well as the guests!
Will you be throwing a Mardi Gras party this February? Share your party photos with us on our Facebook page! We'd love to see them!
Photo credit: DoctorWho