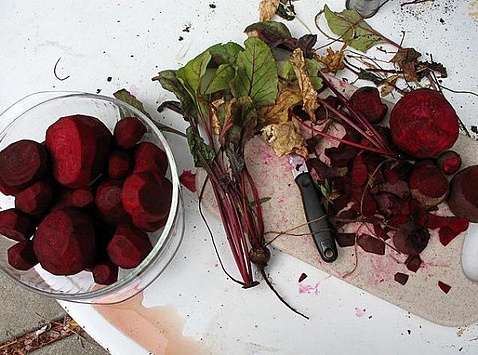 Our passion for cooking is driven and inspired by many influences, not the least of which are the seasonal changes and growing plethora of locally available vegetables and cheeses. Beets are one such vegetable currently in season.
We were recently awarded the wonderful opportunity to cater an elegant gala event for a prestigious Boston-based organization for which we prepared our fresh roasted beet salad with local Chevre cheese from Crystal Brook Farm in Sterling. The finished product was as satisfying to the palate as it looked on the plate.
It seemed to be a beet themed night, as we also prepared roasted red and golden beets for their invited guests. This dish we presented stacked Napoleon style, drizzled with blood orange vinaigrette and served with toasted pistachio dust and a micro sprout salad.
Today, we offer a simpler version of that recipe for you to try with your friends and family. This version, while slightly pared down and easier for a novice cook to manage, still incorporates the tastes, textures and visual appeal as the original and we assure you will elicit rave reviews.
I can personally attest to the popularity of this particular salad, as I had prepared a platter for a ski patrol pot luck dinner (not your likely beet lovers) and they couldn't believe that they not only loved the salad, but that they loved something with beets in it.
Beet & Radicchio Salad, Goat Cheese & Pistachio
Yield 6-8 portions
2 lbs. Beets. Peeled, cut into ¾"pieces
½ cup EVOO
2.5 tblsp Red wine vinegar
½ teas. Kosher salt
To Taste Fresh ground Black Pepper
1 ea Garlic clove, lrg. ( smashed)
2 tblsp Tarragon, fresh chopped
1 head Radicchio, chopped 1' pieces
½ cup Parsley, chopped coarse
4oz. Fresh Goat Cheese
2/3 cup Pistachios, Toasted & coarse chopped
This is easy.
Marry the beets, ½ of the olive oil & kosher salt in a bowl and toss until beets are coated and roast in a 375 degree oven until done. Could be 20-30 minutes. Let cool when done.
Dressing: Add garlic, herbs & vinegar to the bowl you used for the beets and slowly whisk in the remaining EVOO and adjust seasoning of salt & pepper. You might add a pinch or two of sugar if you'd like to take some of the end off of the vinegar.
Marry all of you prepped ingredients with the dressing, give it a toss and plate up and enjoy, with perhaps a chilled glass of Sancerre. This salad is quite attractive when presented in a Bibb Lettuce cup as a base.
Photo Credit: Wright Reading