By Liz O.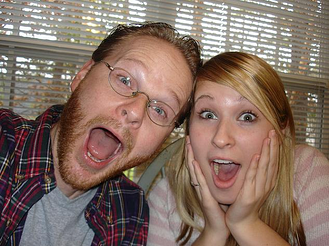 As party caterers, we've had the privilege of taking part in a lot of surprise birthday parties. And as witness to a fair share of them, we can honestly tell you that there's nothing more fun than seeing the face on a guest (or guests) of honor when the celebration is unmasked. That's why we're big advocates of surprise parties. If there's a reason to celebrate, there's a surprise to be pulled off! We've compiled tips and tricks to help you get started planning your next surprise bash.
Great parties start with great guest lists, so be sure to invite the guest of honor's close friends. Include mention on your invitation that you are throwing a Surprise Party. This may seem like a no-brainer, but it's often am overlooked detail that can foil the plot. List a personal email account or your cell phone number as your RSVP, to ensure the secret stays in the bag.

Be sure your cohort (the one getting the guest of honor to the location) is reliable, responsible, and can handle timing glitches with ease.

Keep it simple. Experience has told us that the more pieces and detours you incorporate into your plan, the higher the chances are of something going awry.

Incorporate the guest of honor's normal routines into your efforts. For example, if your spouse plays poker the third Friday of every month at his friend John's house, ask John if he would consider being the host (provided you plan the party and bring everything!) That way, the stage is set, and nothing seems out of the ordinary.

If your guest list is large, consider serving terrific, fork friendly bites on small plates, what we refer to as the tray passed & stationary hors d'oeuvres with a chef-active food station. It's a great way to go, so as not to be concerned with seating arrangements. A Winter/Fall favorite around here is our Braised Guinness Stout Short Rib of Beef. If you're looking for more catering ideas, check out our menu ideas page on our website.
Lastly-- Keep organized throughout the party planning process and plan as far in advance as possible. The more time you have to plan, the more time you have to keep ahead of any glitches that may come your way.
Have fun!
photo credit: merfam