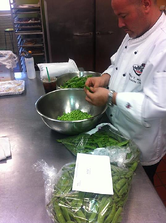 Chef Danny Morgan is a relative newcomer to the Pepper's family, having just started with the company in March of this year, but in no way is he a newcomer to the culinary world. Danny's love for cooking was inherited a very young age from his grandfather. He fondly recalls watching him cook, using a variety of ingredients that at first seemed odd-- until it all came together into a delicious dish.
"My grandfather used to make a duck dish," remembers Danny. "And he cooked it with orange juice and coffee grounds—which at first thought doesn't seem too appetizing, but it made for great duck."
He learned to cook on his own fairly quickly; giving his parents a grocery list each week of the ingredients he needed for meals he wanted to try. One year he even tackled cooking Thanksgiving dinner for his whole family.
His love of cooking brought him to Johnson Wales Culinary School, and from there, an extensive culinary career that would make any chef proud.
Chef Danny has cooked in many of the finest restaurants in the area. The Museum of Fine Arts, the Crown Plaza, the Boston Sheraton, and the Park Plaza Hotel in Boston, just to name a few.
Chef Danny has worked under world renowned Chef Wolfgang Puck, and cooked for celebrities and presidents. But over time he began to feel restricted by working in a restaurant. When he heard that Pepper's had an opening for a chef, Chef Danny had a feeling that it would be a great fit. Besides having a proven track-record and being in business for 25 years, Pepper's is a place where he could put his skills to work in a creative way. He is not just cranking out orders, but being a part of the whole event process, where his input is respected.
Chef Danny enjoys to cooking things that are a bit outside of the box. His style is that of Fusion. He enjoys mixing different styles and flavors that are not often thought of as complimentary. It's the perfect match for Pepper's, which prides itself on creating unusual and unique menu items to wow guests time and time again.