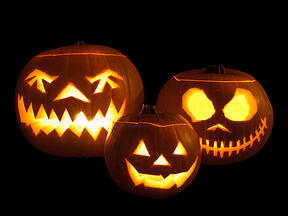 Temperatures are dropping, and the leaves will soon be changing from green in brilliant shades of red, orange and yellow. Halloween will be here before you know it. Halloween is a much loved holiday, by young and old alike. For the kids, it's the one day every year when it's okay to dress up like a superhero and make off with pillowcases full of candy, while for adults the end of October signals Halloween party season.
Make your Halloween party a hit by following these simple tips:
Plan ahead - Pick a date early and send out those invites! Parties just don't happen, especially when they involve time-consuming costumes. You want to give your guests plenty of notice so they can prepare. The more time you allow for them to come up with costumes, the better those costumes will be, and your party will be more memorable.
Decorate! - When you walk into a Halloween party you should know it immediately. Halloween has got one of the most recognizable color schemes and décor—orange and black, dark and creepy. Your guests will likely be going the extra mile to be imaginative with their costumes, so should you with decoration. Go above and beyond the simple orange and black streamers and paper goods. One quick and extremely effective mood changer is a one night replacement of your regular light bulbs with red or green bulbs to give the party rooms an eerie glow. Put out creepy crawlies and Jack O'lanterns. Cob webs, fog machines, strobe lights and scary music are also great additions. It's not just a party on Halloween, it's a Halloween themed party! Your imagination is the only limit!
Make it fun - Halloween is a day to let your inner child free! Silly, cheesy games and art projects that would often be scoffed at on other days can be a lot of fun to play on Halloween. Plan some events throughout the night to keep things light and interesting. Crafts and games are always a good idea to keep people laughing and mingling all night.
No matter what the theme may be, Halloween or otherwise, theme parties work well because they wow guests and take them out of their usual ho-hum. Themes are a great way to get people to open up, and generate conversation between guests who may otherwise have little in common.
Halloween is the ultimate theme party, because it's sort of a "pick your own theme" theme party. By planning ahead, making your place look the part, and mapping out a fun game plan for the night, you can make your Halloween party one to remember.
And if spooky foods are in the fortune tellers cards, dont hesitate to call Pepper's for a terrifyingly fun and delicious night!
Photo credit: wwarby@flickr