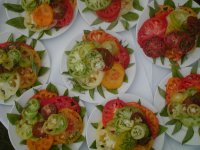 What: An Exploration of Local Heirloom Tomatoes & Corn with Chef John Lawrence
When: Thursday, September 27th from 6:00 p.m. to 8:00 p.m.
Where: Clark Culinary Center, 393 Fortune Boulevard, Milford, MA 01757
Price: $85.00
In case you missed the August 15th event at the Mass Horticultural Society, there will be an opportunity to experience another, tomato-focused tasting event at Clarke Culinary in Milford on Thursday, September 27th.
This educational tasting event will feature a discussion lead by Chef Danny and Chef John about tomato varieties and ways in which you can incorporate fresh, local heirloom tomatoes into cuisine in exciting and unique ways. This menu, prepared on the exquisite high-end kitchen appliances sold in-house at Clarke, will expand upon the heirloom tomato menu served last month at Mass Hort. In addition to a tomato sampler plate, participants will be served a crisp nasturtium fritter with a poblano mint salsa, accompanying fresh grilled striped bass-direct from the waters off of Cape Cod. The bass with be napped with a local sweet corn crema and sweet corn ice cream for dessert. Yum!
To register for this event, click here.