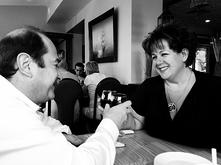 We'd like to thank everyone who posted a story about how they met their significant other on our Facebook page for the chance to win Pepper's Delectable Date Contest. We loved receiving and reading your stories!
We are happy to announce that the randomly selected winner of our contest is Eva Kolezi-Shqina, who lives with her husband of 18 years in Worcester, MA. Eva and her husband will be the recipients of a finely prepared and hand-delivered meal from Pepper's Catering in honor of our company's 25th Anniversary in business.
Although selected at random, we were enthralled by Eva's story—it had all the workings of a great romance—love at first sight, separation and a serendipitous meeting! We think she tells it best. You can read her Facebook post entry below.
Congratulations to Eva and her husband for winning a well-deserved Delectable Date from the Pepper's team, and for 18 years going strong!
"I met my husband when I was only 14 years old. He came to our house to pick up my brother to go to a soccer game. I saw him and I froze. My grandma asked me, "Sweetie, what's wrong?" And I told her, "Nana, he is the one whom I'm going to marry!" She started laughing and told me that I was very young and I would meet plenty of people on my journey. Years passed and I emigrated in Greece with my family. After a year there, I saw him again...He had also emigrated in Greece, in the city and the neighborhood where I was living. We never separated after that. We have been married for 18 years, have three wonderful children and building our life here, in Worcester, MA."
For more information on our Delectable Date contest, and to read the other great entries, visit our Facebook page:
www.facebook.com/pepperscatering
.