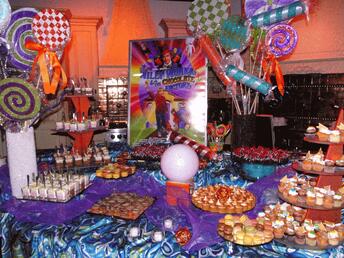 By: Linda LaBarge
It seems like we have been doing Dessert Buffets here at Pepper's Fine Catering, well forever. When we first began serving desserts buffet style, we weren't sure what to expect. But soon after we started, we noticed a growing interest in Dessert Buffets, and we knew it was time to give them the kind of menu makeover that would make the interest even greater.
When choosing desserts for each station, everything including the color, flavor, and size of each dessert must be taken into account so that they fit in with the rest of your party. Each dessert at Pepper's must pass the taste testing staff's approval of deliciousness to earn a place on the menu, and they can be harsh critiques!
There are many benefits to having a dessert buffet at an event or party. If you're holding a large function, they're great guest pleasers. Your guests will enjoy the option of more than one dessert and will be able to move about, schmoozing after speeches or meetings. This goes for weddings, too! Rather than going with the traditional wedding cake, a dessert buffet can add a unique touch and a variety of flavor.
Almost anything can be included in a buffet: from simple desserts like brownies, dipped fruit, and cookies, to the more sublime--dessert custards, seasonal mousse cups, and unique mini sweets. Over the past year I have experimented with our items and am now offering four buffet options. Each is given their own name, all with delicious foods included.
Recently we catered an anniversary event for a local company hosting their top customers. They chose "1970s Movies" as their event focus, and we went wild creating a Willy Wonka dessert experience for their dessert buffet. We had so much fun with our golden ticket garnish for the cupcakes and our giant lollypop props. The design perfectly evoked the whimsicality of the movie and the DayGlo colors of the 70s set. The best looking part was definitely the 15 pounds of chocolate in one of the display vases!
If you're curious to see more of our work, take a look at some of our dessert pictures and check out our Dessert Buffet Menu online as well. Happy eating!