By Heidi Bouchard ~ Head of Style and Design
Pepper's Fine Catering owner, Susan Lawrence, recently came to me for help in designing stations for an Asian Inspired Gala. She had a vision with some specific ideas. One of them would be a major focal point set in front of the huge stage at Mechanics Hall in Worcester, MA. To say the Hall and Stage are grand would be a bit of an understatement. It would have to be big and impressive as not to look dwarfed by the majestic nature of the room.
The station was Asian inspired, 32 feet long and would have 4 Chefs cooking and serving guests. We would need 8 wok set ups.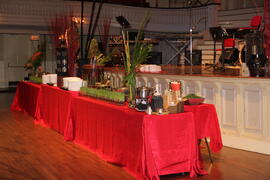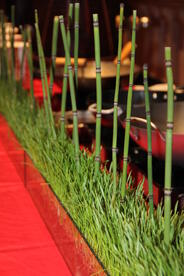 The MENU
~Chinese Long Beans Stir Fried and topped with Crispy Five Spice Shrimp and Hoisin Sauce
~Handmade Pork Dumplings with China Moon Orange Sauce
~Vegetable Shoo Mai with Citrus Ponzu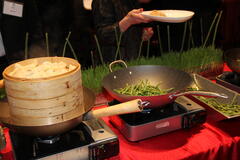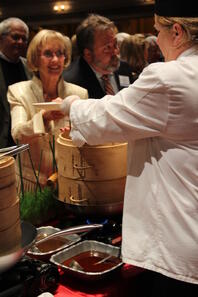 Susan and I collaborated with the culinary team and concluded that guests would start in the center of the station and flank off to the right and left. Immediately I decided that the major focal point to display would be in the center. In addition to having to be large I decided to also raise the table to give the station even more presence.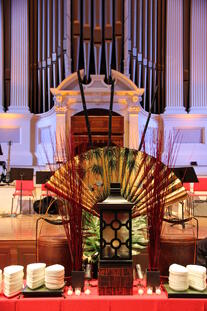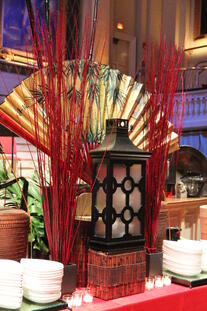 Susan and husband and co-owner John have traveled to Asia many times over the years and have collected wonderful pieces that are displayed in our Tasting Room. I often use them for very special events. The center arrangement soared to over 10 feet high and featured a huge gold hand-painted fan, dyed red Asian willow, bamboo and an oriental lantern. The plates were set on glass covered trays filled with green bamboo rice and across the front of the tables were glass boxes with wheat grass and bamboo ferns.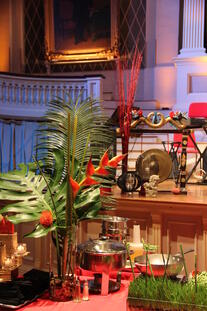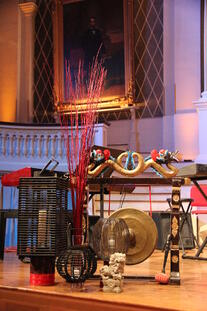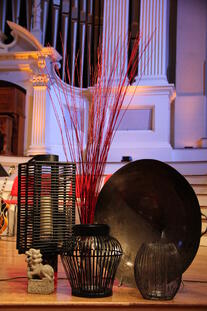 Pin lighting was added by Revelation Productions of Worcester which brought life to the display. A culinary and visual feast!
Delicious and Beautiful……that's what we do best.