Catering for Open Houses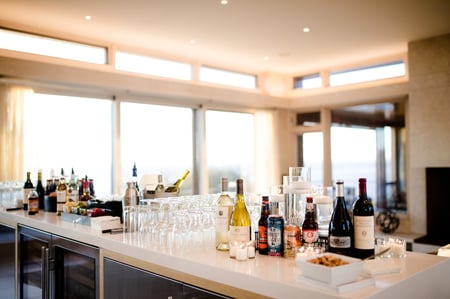 It's no secret to successful real estate agents, who are looking to sell multiple properties or that extra special "designer showcase home", that attracting the right prospect calls for the some "out of the box" thinking.
People seek to imagine themselves in the right home and setting the stage with furniture, lifestyle function and special activity is certainly an important strategy that many progressive developers and real estate brokers deploy to move the sales of homes.
While the depiction of Annette Bening in her role on American Beauty and her quote of "I will sell this house today" depicts a harried broker scrubbing the tiles, dusting up a storm, savvy brokers deploy numerous tactics to move a high end piece of property.
Hosting an open house, especially a broker open house, is still a strategy that has numerous other benefits besides finding the right buyer. This is where, as in life, putting together a well thought out plan will drive a higher percentage of results. A high end broker open house should also attract sharp agents who also sell to the upper level marketplace and have a Rolodex of contacts who can expose the Host agent to a network of new contacts.
As a caterer who has been called on by dozens of agents who seek a tasteful and memorable solution for custom beverage and clever food stations that really showcase a home and its special nuances, we have achieved the highest amount of raves by placing food and matching beverages in focal points around the home and property that gets visitors to slow down and take a moment to capture a home's unique aspects of architecture, views or simply it's terrific and useful design. We recently catered a gorgeous open house that was featured on a segment of Nightline Prime on ABC. You can read more about it in this article in the Telegram & Gazette.
Toll Brothers, a nationwide upscale home builder employs these strategies and takes it a step ahead in some of the following ways.
1. Inviting the right guests, such as public officials, Chamber of Commerce, brokers and other "influencers" that network with people who speak with those who may be in the market for something special.
2. Schedule your open house after "working hours" for higher level of attendance.
3. Enlist local vendors who represent what is special about the area. Local craft brews (we featured Jack's Abbey beer recently), farmers market, Spa and other lifestyle types of vendors. Everyone wins with this exposure.
4. Go digital & use social media to further boost awareness and interest. Instagram, Facebook, Pinterest are getting more powerful by the day.
So take a page from Annette Bening's character and make the home a sparkling presentation, hire a great catering company to help you, the broker look great and with all of this advance preparation, relax and enjoy your Open House Event.