Many of our friends in the restaurant industry who are so used to having every resource at their fingertips will often ask us if we are playing with a full deck when we speak about the challenges with catering, such as:
Setting up temporary kitchens in garages, under event tents, the unfinished basement or in the field with no power or running water

Relying on a tent to cater a gala event for 300 guests, in 30 degree weather and rain in the forecast

Packing up two truckloads of equipment for an outdoor wedding, setting up and then repacking at midnight under moonlight
Perhaps we are a little insane, but there are a number of things that motivate us and keep our catering team happy, receiving thoughtful accolades every week from our joyful clients is a key motivator. We always look forward to Mondays, as it is when we receive numerous Thank You notes of praise for "exceptional cuisine and attentive service to our guests".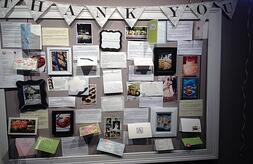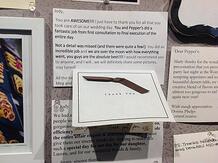 Recently a film crew from Nightline Prime on ABC arrived to film a real estate broker open house that we were catering and the on-air interviewer went ga-ga over our Lobster BLT Salad on editable spoons as you can see in the previous link. Her expression and joyful sounds were priceless, once she gave it a try. That's what we're talking about.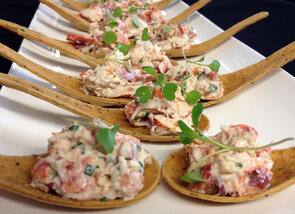 It's those reactions that we receive and knowing that we serve memorable cuisine and award-winning catering services to each and every event drive us to do it again and again. We never get tired of reading Thank You notes from our clients never and as challenging as catering can be, it is also one very rewarding service to provide.
Catering isn't just about the food. While we admittedly are a food driven company, we are equally driven to service, as well as style and design. Yes we do have a style and design director who is charged with
enhancing all of our work with panache & to best complete the vision of our client. Great food presented with style completes the efforts of all of our group.
Lastly, the third leg of the Pepper's Fine Catering trilogy that forms the basis of our everyday is the fabulous and attentive service staff. They are the directors of first impressions and we always get a mention in every thank you note on how pleasant and attentive these key members are to a catering event experience, led by our proactive event managers who execute their well thought out plans for service.
We are so fortunate to have such a terrific "service oriented" team in our midst and offer you this question, wouldn't you prefer to relax and enjoy your party and guests like never before by engaging the team from Pepper's at your special event?
Thank you to all of our loyal foodies, who have engaged & challenged us to do it once again, as good or better than the last time.