Farm to Fork, Farm to Table, call it what you'd like.
We'll call it fresh...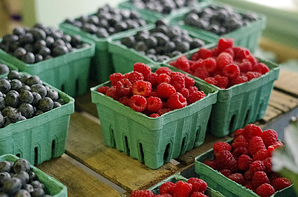 Do all strawberries taste the same?
Head over to a local farm, say Indian Head Farm in Berlin and bring your sweet tooth and napkins.
Eat slowly. Savor the vibrant color, the aroma after your first bite, then the overwhelming essence of strawberry and the excessively juicy berry oozing of goodness ( this is where the need for napkins comes in ). OMG. After consuming a dry, shipped from across the country berry from a super market, you're sure to have an epiphany.
This was my experience a few weeks back when I had stopped over to Indian Head Farm in Berlin a few weeks back and picked up a few baskets of strawberries & blueberries. I met with Tim and Janet Woodward and began chatting about the farm, their produce and their love for what they produce. The Woodward's had shared that they would love to host a dinner in which lovers of "fresh" could experience what they do, each and every day.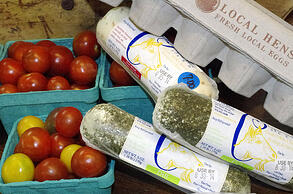 60 seconds. That's about how long it took me to commit myself and Pepper's Fine Catering to join with the Woodward's and cater a farm to table dinner event. We all became animated while walking over the fields. The ideas were flowing and we broadened the concept to include products for other local farms as well. No doubt that we would invite Ann Starbird to bring over some of her delicious Chevre from her Crystal Brook Farm. Eggs would come from Lilac Hedge Farm and Tim would source the Steamship of Pork from another local farmer and so began the menu considerations.
We have already began crafting a few new ideas and this past Sunday we tested out a grilled zucchini, sweet corn & goat cheese salad with a fresh rosemary, lavender salt dressing.
Having shopped at Indian Head for some 25 years makes this an easy evening to wrap our heads around and be forewarned to purchase tickets asap. We will only sell 50 at 50 dollars each. The menu, farm and the evening will far exceed your expectations and chef Lawrence will also throw in a barrel of his craft brewed beer made with his best buddy, Tim McGee to complement the tastes of the evening.
The Farm to Fork Dinner is to be held on Thursday, Aug. 14 from 5-8pm, with volunteers from the farm as well as Pepper's Fine Catering will be putting in collaboration with Indian Head Farm at their 232 Pleasant Street location in Berlin.