Being Customer #1
Have you ever been the first customer of a business?
While participating and donating samples of our catering cuisine at a benefit for the Worcester County Food Bank nearly 17 years ago, I met with Ann Starbird from Crystal Brook Farm. Ann was sampling the first offering of her yummy Chevre and I was taken aback with the delightful tang, mouthfeel of her delicious cheese. Before the doors opened for the general public, I found myself placing our first order and therefor begining a long relationship, offering Ann's local Chevre to the delight of the customers of Pepper's Fine Catering. In the first year that Ann was in business, we were buying up nearly all the Chevre she produced, which for a small business can be both a godsend and a leap of faith. While we have always sought to be the best caterer in the area, offering enjoyable cuisine crafted by a passionate culinary team, being customer number 1 to a local farm will forever remain a highlight and speak volumes to our culture.
Fast forward to this past Thursday when Pepper's Fine Catering collaborated with Crystal Brook's Chevre, Lilac Hedge Farm (grass fed meats) and our gracious hosts, Indian Head Farm in Berlin. MA to produce their first Farm-to-Table dinner. Tim Wheeler's family has been farming on their land in Berlin for over 200 years and it is a spectacular farm in which Tim's wife Janet has raised another generation of Wheelers to continue the traditions of farming.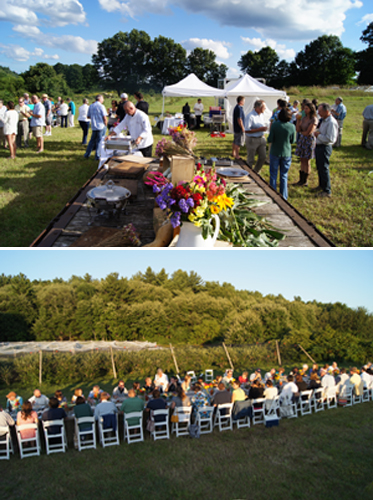 The setting of our 70 foot long table overlooking the berry fields couldn't have been more idyllic. The torrential rains of the evening before had given way to blue skies.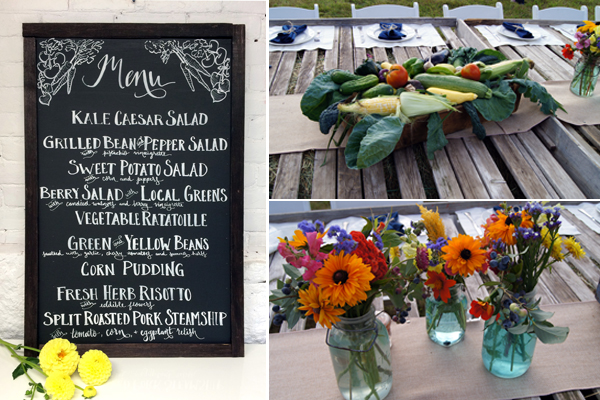 The wafting aroma of spit-roasted pork steamship provide by Lilac Hedge Farm, the charming & enticing food display and table settings by Caitlin Spaulding, Stylist extraordinaire, along with set-up Chefs Tom Little and Matt Bauce together created an over-the-top cuisine experience for the 70 guests. All of the fruits and vegetables were picked within 24 hours of dinner and the creative chefs crafted a menu that showcased the nuances and tastes of the unique terroir of Indian Head Farm.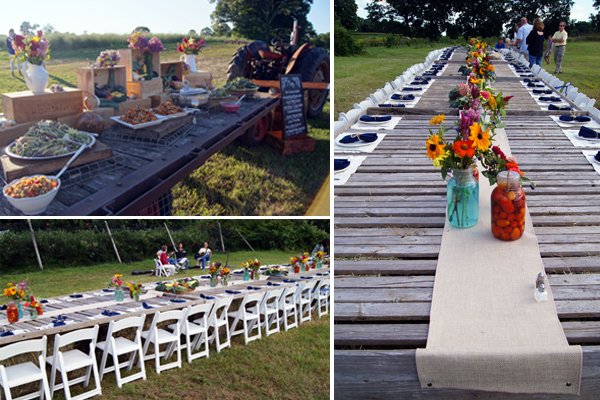 Imagine... fresh Kale Caesar Salad, stuffed eggs 3 ways with Lilac Hedge's fresh eggs, Vegetable Ratatouille, Corn Pudding as well as 5 other enticing dishes and a three berry desert in the Garden Shed with local musicians who popped in for the fun of it.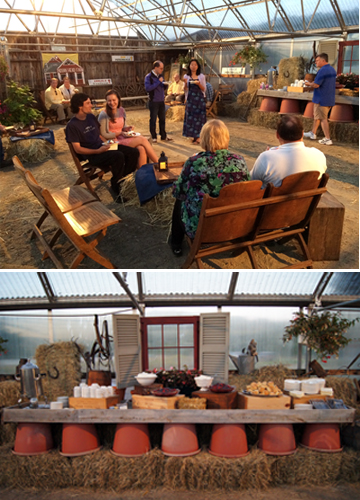 It took a team effort to provide such a memorable feast, and we are so thankful for the farmers that we were able to feature and support. Also a big thank you the volunteers from Pepper's and Indian Head Farm for their exceptional help as well as the guests who didn't hesitate to be the first to experience this amazing event. Tickets sold out in 3 days of the Indian Head Farm (to table dinner) - it is likely the dinner memory of the summer.
Here's to Customer number one!