by Jody Boyajian
Senior Event Designer
Mango. Tangerine. Or just
orange

. Whatever hue you call it, this sunny color is sure to make a summer wedding original and memorable.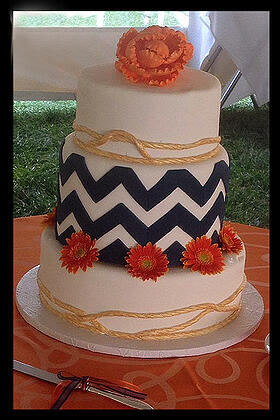 A recent bridal couple spiced up all aspects of their Larz Anderson Auto Museum wedding with a winning combination of navy and white chevron striped linens with orange charger plates, napkins and floral centerpieces.

Other details included an orange slice in each water goblet, orange paper lanterns throughout the tent, orange display linens and orange imprinted sunglasses for guests to wear during the outdoor ceremony. Even the bride and bridesmaids wore bright orange shoes!
This wedding had a cohesive and fun design plan that reflected the personalities and spirt of the couple.

Here's to
coloring

your wedding with creativity!