Pepper's had the great pleasure to cater and design a Gala for the Trustees of the Reservation at the Old Manse property in Concord Massachusetts this summer, and since we're not quite ready to accept that summer is over, we thought we'd share it now! We love events like this, that have not only a delicious menu but also lots of style and design elements for Pepper's to design, create, and set up for clients!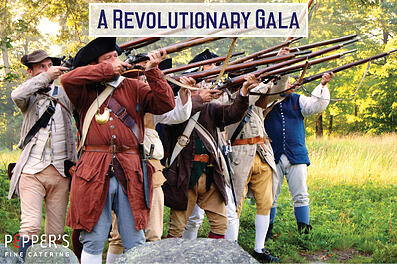 The Trustees of the Reservation decided on a Revolutionary war theme, and even had a Revolutionary reenactment, muskets blazing and all!

On top of the passed hors d'oeuvres, we wanted to have an impressive cheese station for this event as there would be plenty of time while watching the revolutionary reenactment for guests to snack. With stacked wine crates for height and tea dyed reproductions of historical documents to add a historical feel to it all.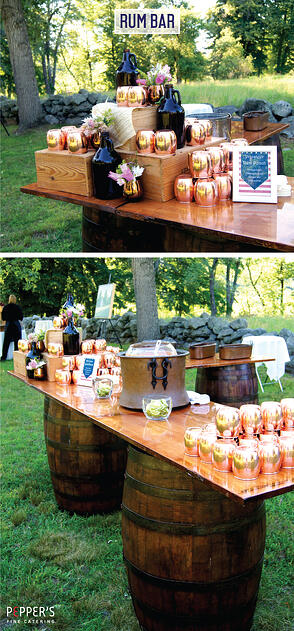 We carried this look through to our a delicious rum bar with copper cups, and our own wine barrel display.

When guests moved into the tent for dinner, they were lead to their tables with centerpieces of antique books and vessels filled with flowers. We actually scoured antique shops for all the unique vessels and books found at each table. Complimenting the antique books with newer hardbacks that were all spray painted and then hand painted with gold accents on the spine to make them blend in with the older books. We then built some lovely floral arrangements in everything from antique teapots to vintage metal beer steins.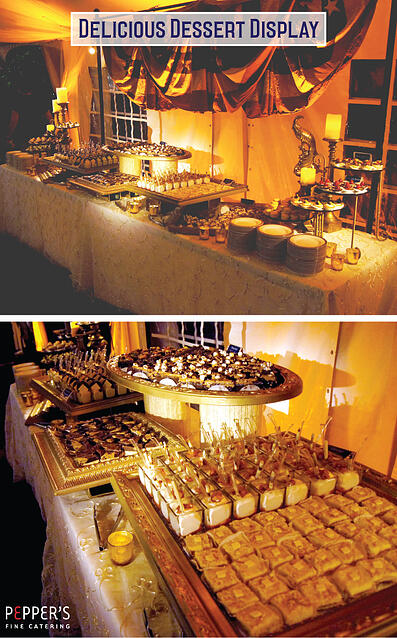 Last but not least was our opulent dessert display, with all our tasty treats displayed on gilded mirrors, surrounded by candlelight, with a backdrop of colonial flag bunting. We loved creating all the design elements to complement this event and the property.