It's not often that you get to design a wedding from top to bottom, but with Matt and Sandie's wedding this past week, we were able to do just that! I met with the bride and groom to walk through the Southborough Community Center, a lovely old house set on a beautiful property, to get an idea of what Pepper's could do to bring their wedding vision to life. As we walked thorough each room, Sandie told me her vision, of rustic romance with lots of personal touches. She had bought plenty of pieces already that she wanted me to incorporate, so I went back to the design studio and started sketching, I sent over my sketches and a proposal and we were on our way, with a plan of building special pieces, staging pretty areas, and creating lots of floral arrangements!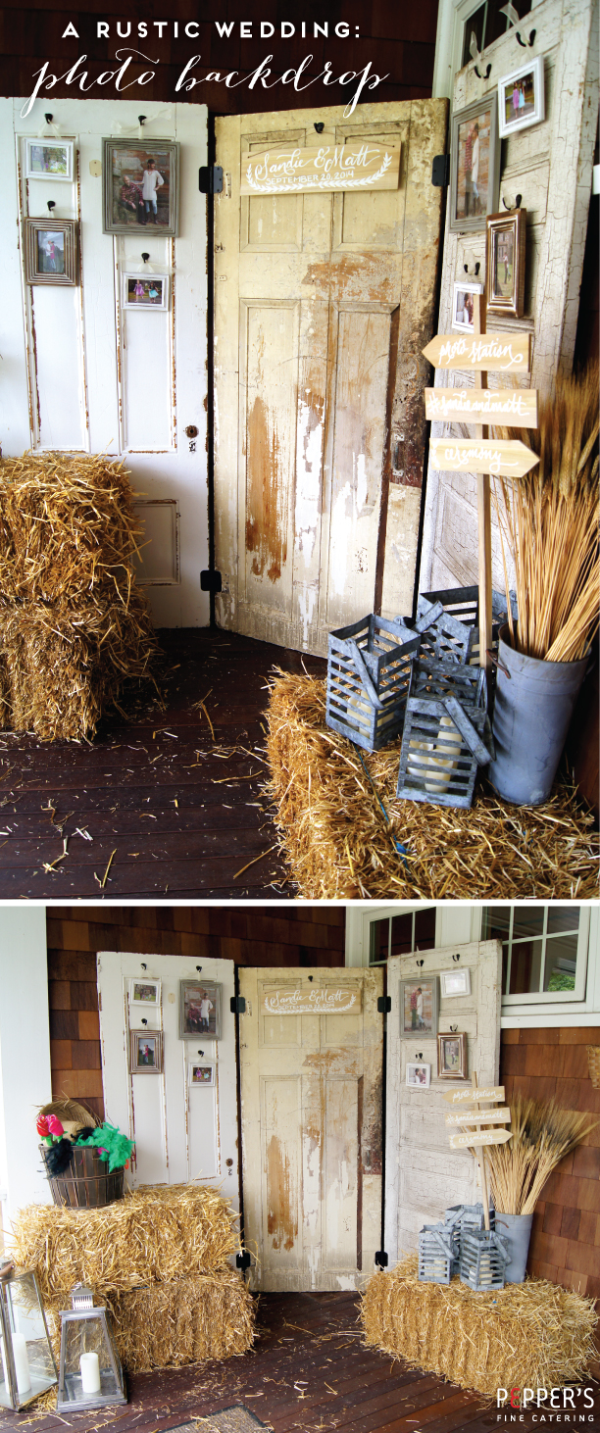 We started by building an interactive photo display, which was placed on the deck by the front door. I used vintage doors to create a photo backdrop, created signage for the door and more directional signage (and you can't forget # info for photos!) We then added hooks and family photos so that all the guests could pose with the couple even when they were occupied elsewhere! With a couple more props and hay bales to sit on, it was the perfect place for the couple and guests to pose for photos! We love photo stations because they can create some of the most fun photos a couple has of their guests!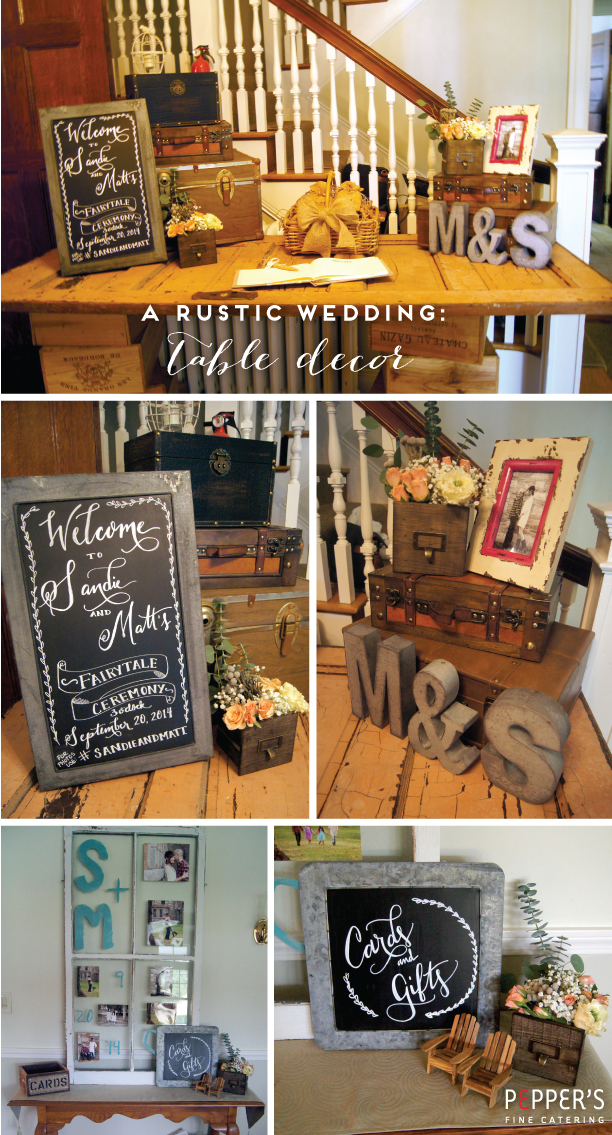 Next was the welcome table in the entryway. We wanted to create a first impression upon entering the house, something that really gave the guests a clear idea of what the whole look and feel was. We built this with an old door as the top and wooden wine boxes as the legs. I then drew up a custom welcome sign and set up a little rustic-vintage vignette with old trunks, letters, and little drawers full of flowers. The bride and her kids had created these fun windows with photos and writing and wanted us to include them in the décor, so I thought the perfect place for this one was on the gift table, we paired it with their gift box, another sign made here at Peppers, and more flower arrangements, it was the perfect place for guests to drop off their gifts and cards for the couple.

After signing the guest book, guests headed into the great room for the ceremony, which was full of design details! First, we made this custom wood marquee sign especially for the couple, with hand painted details and vintage bulb lights, it was the perfect focal point for the fireplace where the couple would say their vows. Next we created this lovely floral garland for the fireplace and filled bud vases with flowers to give it some extra impact. Then we stacked wooden apple crates and filled them with flowers to more clearly define the ceremony area. It was a truly magical place for Sandie and Matt to say "I do!"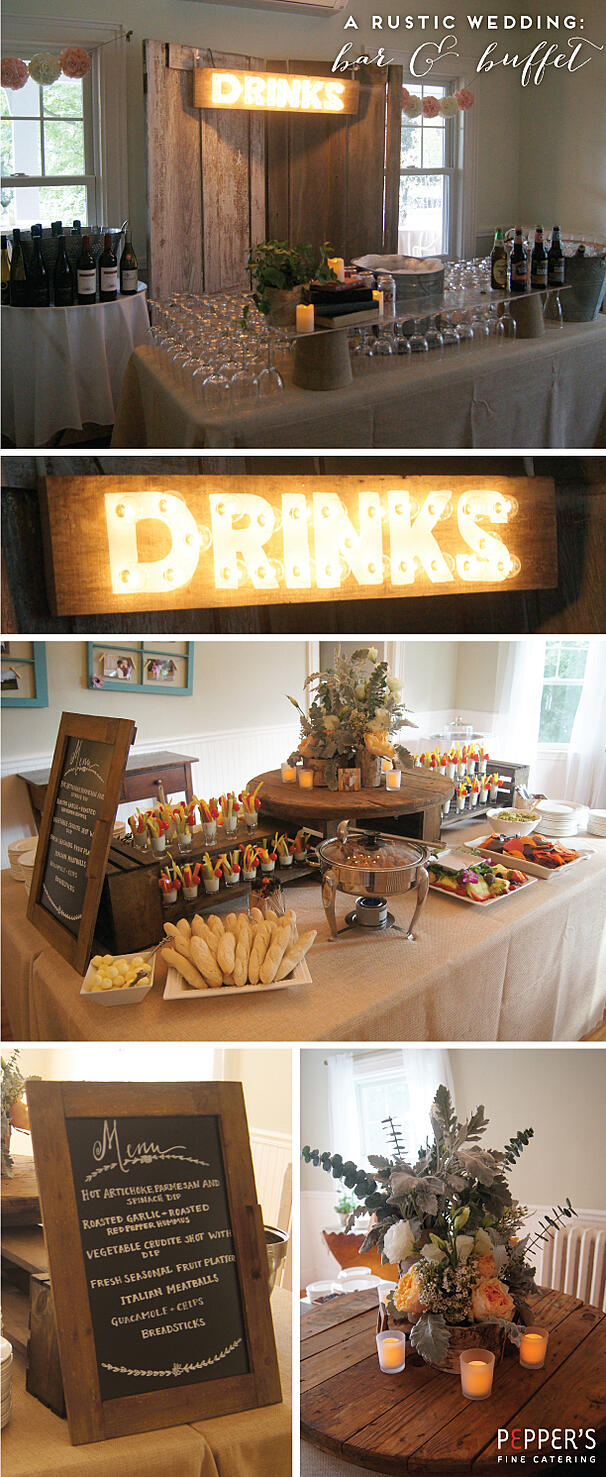 Last but not least, and of course for Pepper's, one of our favorite parts: the food & drinks! For the bar, we built another backdrop of vintage doors, and created a marquee sign to designate the bar area. This was a cocktail style party, with lots of delicious little bites and appetizers for the guests to nosh on all evening long. So along with delicious passed hors d'oeuvres, we created this rustic stationary display for the tasty morsels that would be out all night long. With apple crates, a giant vintage spool top, a hand written menu sign and plenty of floral arrangements, this food display fit perfectly with the rest of the décor!
We wish Matt and Sandie all of our best wishes and thank them for letting us bring their wedding vision to life!