2019 Best Celebration Cake Winner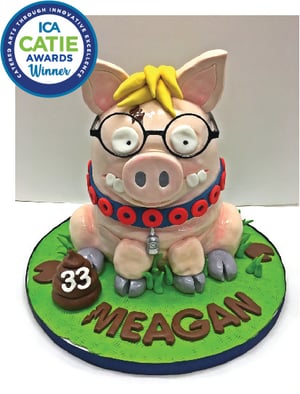 This February we were announced as the 2019 award winner for "Best Celebration Cake" in the National Catered Arts Through Innovative Excellence Awards. The award ceremony took place in New Orleans at the 2019 Catersource conference. The CATIE awards are often regarded as "the academy awards" for the catering industry. We were so honored to take home this award and had an amazing and inspiring time being surrounded by the best of the best in the catering industry.
A little background on the cake design: The Harry Plopper cake was designed for a special client celebrating their 33rd birthday. Our client Meagan, celebrates 33 as a big milestone year. It was a tradition her and her friends started and called it the "Larry Bird" year, which is a phrase they came up with because their favorite Celtics basketball player, Larry Bird, was number 33.
When we first met with Meagan, she had no idea what she wanted for her 33rd birthday cake but she knew she wanted it to be fun, different, and memorable. We started asking her questions about her likes, dislikes, hobbies, favorite bands, shows, and movies to give us inspiration. She mentioned she loves Harry Plopper, a character from The Simpsons movie. That gave us the perfect inspiration for the base of the cake. Meagan also noted she loves the TV show Futurama and the band phish. Over the course of the next few days, our Pastry Chef started working on a 3-D design of the pig. She also wanted to tie in other elements that reflected things Meagan enjoys. That is where the idea of creating a Phish inspired dog collar with a bender dog tag came from. When Meagan came to pick up her cake she was beyond thrilled with the outcome. We were so happy she loved the cake and we had such a fun time designing and creating it for her.