English Garden Chicken Salad
4 Servings
Our English Garden Chicken Salad is one of our most popular salad dishes that has been eliciting oohs & awes for over 20 years. It is a perfect summer salad combining delicious seasonal vegetables with tender chicken and a light lemon dressing.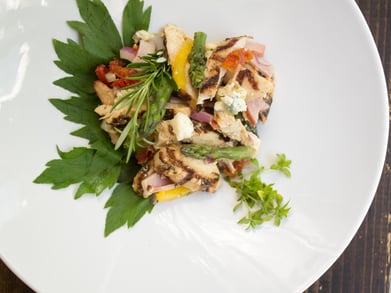 Chicken Marinade
1 1/4 lbs. boneless chicken breast
1.5 tbsp. olive oil
2 tsp lemon juice
1 tsp dijon mustard
Salad Ingredients
6 asparagus spears - blanch in boiling water for 10 seconds then cut on a bias into 1'' pieces
1/2 red pepper julienne cut
1/2 orange or yellow peppers julienne cut
1/2 red onion julienne cut
2 tsp fresh rosemary coarsely chopped
1/3 cup sun-dried tomatoes softened in warm water for 10 minutes
4 oz. stilton or local aged blue cheese crumbled *see note below
3 oz. premium ham cut into 1/2 inch pieces
Dressing Ingredients
3 oz. extra virgin olive oil
1 1/2 lemon - zested and juiced
2 tbsp. chopped fresh parsley
Dash of salt and pepper

1. Mix ingredients for the chicken marinade and toss in a bowl with the prepared chicken breasts. Let marinate for 30 minutes then grill the chicken breasts until they reach an internal temp of 155 degrees. Set aside to rest before cutting into bite size pieces.
2. Prepare all remaining salad ingredients and combine in a bowl.
3. Make the dressing by whisking together the olive oil, lemon zest and juice in a bowl. Then pour over salad ingredients.
4. Set over a bed of fresh greens and enjoy with a crisp dry white wine!
*When Peppers began in 1987, we didn't have a local cheese industry so we chose English Stilton blue cheese. Nowadays, Great Hill Blue from Marion or Berkshire Blue from our Western MA neighborhood provides terrific local options.