As a designer, there is nothing I love more than a couple who has a serious passion that we can tie into the design of their wedding. Sam and Sarah are LARPers or "Live Action Role Players" for those of you who don't know the term. Which means they love fantasy worlds and bringing them into their every day lives. We were able to tie that design direction into every aspect of their wedding.
We created custom crests for Sarah and Sam and each of the "Lands" that would designate the tables. We then used these crests on the place cards, each set up as a mini crest of the "land" just like you would see on a medieval battlefield. For the place cards table, thats exactly how we set it up. With a field of moss, each place card stood on its own waiting for the guests to find there land and alliances for the night!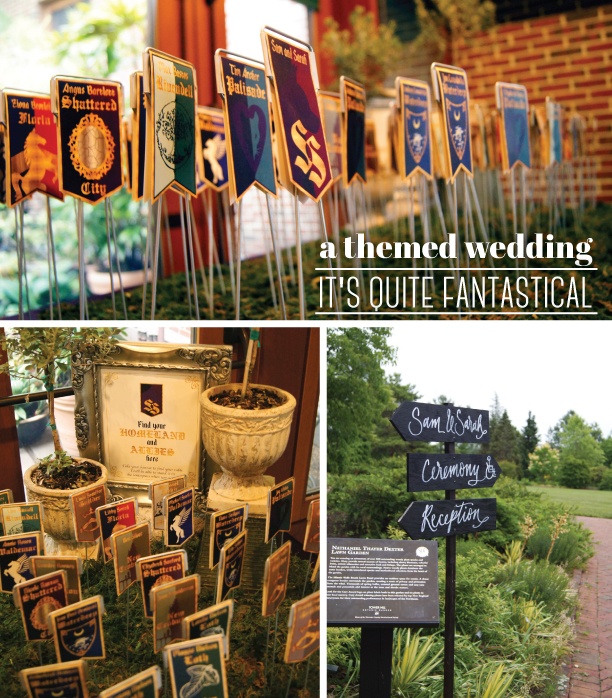 We were then able to carry this look through all the elements of the wedding, from the programs, to the reserves seating cards, to the buffet decor and even for a game of Minglo. Minglo is "Minglin Bingo" which encourages the guests to get to know one another during cocktail hour by sending them on a search for guests with different histories and interests, perfect for the couple who loves games! They even wanted to have a game as opposed to the clinking of glasses to make couples kiss, so each guest was invited to challenge the bride and groom to a roll of the die to see who would be victorious! The decahedron die, most well knows in Dungeons and Dragons, was even recreated by our talented pastry chef Lisa as a favor, all tied together with the couples new family crest.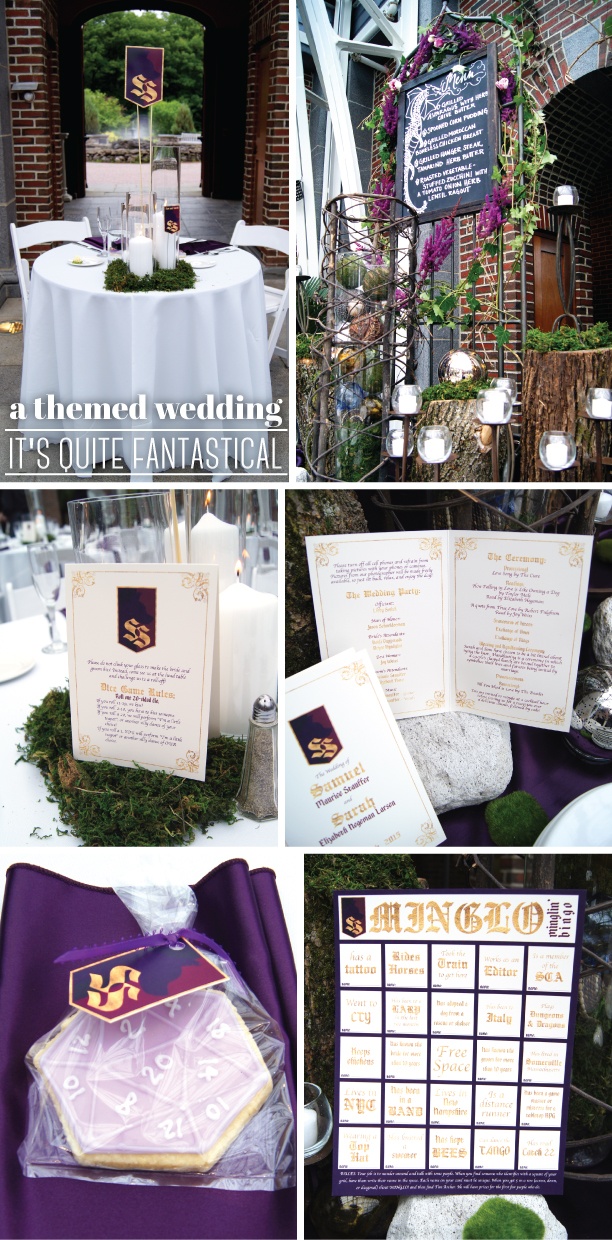 With a night full of LARPing, zombie dancing and time warps, everyone had a ball at this Tower Hill wedding!


Venue: Tower Hill Botanical Gardens Caterer: Pepper's Fine Catering Design: Pepper's Fine Catering