---
FEATURED VENUE: THE WORCESTER ART MUSEUM

Since opening its doors in the spring of 1898, the Worcester Art Museum's internationally renowned collection has impressed all those who enter, with its grand spaces, over 35,000 works of art, and 50 centuries of creative spirit. This lasting impression can be yours to share for your corporate event, holiday party, meeting, wedding or social event.
Imagine your guests in this one-of-a-kind space with the ability to offer a unique entertaining experience. Host your event in the Renaissance Court and grant your invitees access to a wealth of history and art among the first floor galleries. This is the perfect location for a cocktail style event or seated dinner reception. The balcony above the Renaissance court can also be used for dinner receptions, accommodating up to 120 guests, providing a unique view of the museum. The Museum Café, with its adjacent outdoor Courtyard can accommodate 30 to 150 guests — depending on the style of service. This space allows your guests to enjoy the outdoor courtyard in good weather months. To complement your event, you may want to offer your guests a docent-led tour of selected galleries, or an opportunity to view one or more of our galleries on their own.
For a weekday corporate meeting, consider the Museum's Conference Room. With audio, visual, and Internet capabilities, the Conference Room seats 100 guest's theater-style and 40 in a classroom-style scenario.
Weddings at The Museum
With stunning architecture and elegant surroundings, Worcester Art Museum sets the stage for an unforgettable wedding. Imagine your bridal party's big entrance down the grand staircase of the Renaissance Court, surrounded by 50 centuries of art. Following the ceremony guests can enjoy cocktails and hors d'oeuvre in the Renaissance court and make their way through the surrounding galleries on the first level of the museum. Depending on the size of the wedding, dinner can take place in the Renaissance Court or on the balcony. Following dinner guests make their way back to the Renaissance court for dancing and dessert. Your guests will get to enjoy all that the Worcester Art Museum has to offer in a one-of-a-kind space.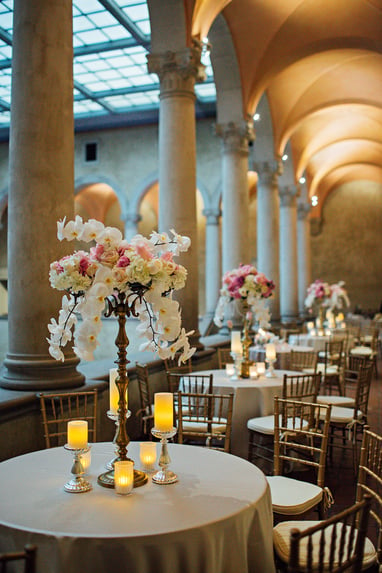 Photo Credits: Eric Limon Photography (top image) Erica Ferrone Photography (bottom two)
Contact us today to learn more about hosting your event at the Worcester Art Museum.