HOLIDAY PARTY THEMES
Winter Wonderland

Winter wonderland is a fun theme that incorporates a lot of white and silver accents. Think white linens adorned with fake snow, silver Christmas trees, white and silver balls, and lots of candlelight. For more of an outdoor winter wonderland incorporate pine cones, mini live Christmas trees and natural elements like birch logs. For the menu a festive dessert display with snowflake shaped cookies, white chocolate mousse cups, and a Baked Alaskan would pair perfectly with the theme. Welcome cocktails offer a way to introduce the theme to the guests from the start - how about a Godiva white chocolate martini or for a non-alcoholic option a white hot chocolate passed on wood slabs?
Ralph Lauren Inspired Party


A great way to get inspired and see what is trending for the holiday season is to window shop designer stores during the holidays. Ralph Lauren, a leading designer for home furnishings and clothing, is a great brand to pick up design ideas from. For a classic Ralph Lauren inspired party think plaids paired with classic timeless holiday accents. Colors ranging from reds and maroons, to greens and golds. One of our favorite looks is pairing a plaid tablecloth with gold candlesticks, greenery, and vases filled with cranberries in water with a floating candle. For the menu you can include classics like beef wellingtons, baked ham, green bean casserole, and potatoes gratin. Pair your entrees with timeless holiday dessert recipes like rum balls, a yule log, bread pudding, or a croquembouche.
Natural and Rustic Holiday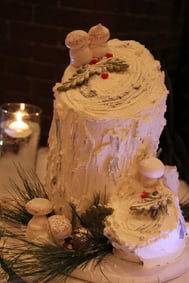 How fun is an old-fashioned rustic Christmas? We love the country charm look for the holidays. To bring this look to life incorporate details like burlap ribbons, pine cones, wooden trees, rustic lanterns, and green garland. Some of our favorite rustic displays include pine cones and holiday balls displayed in glass cloches alongside lanterns with flickering lights. For dessert, our classic buche de noel cake is a perfect accent to a dessert station.
Christmas Around the World


Christmas is celebrated in so many ways around the world. This is a fun theme which showcases how different cultures celebrate the holiday. For decor, you can stick with traditional holiday colors of reds, golds and greens. For the menu, create different stations reflecting traditional holiday food like Panettone bread and fish dishes for Italy, Swedish meatballs and rice pudding for Sweden, tamales and snow ball cookies for Mexico, fish (oysters, caviar) and bûche de Noël for France, there are so many more options too! You can have stations with different entree dishes from around the world then offer a large dessert display with a dessert from each country. Each station can be accented with décor elements that you would see in each country during the holidays.
Ski Lodge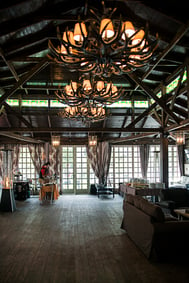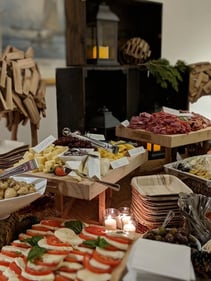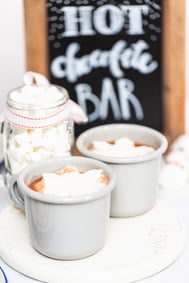 Whether you are someone who prefers to hit the slopes or curl up by the fire, transporting guests to a ski lodge-esque holiday party is sure to warm everyone's heart. This look is accomplished through a palette of warm browns, frosted white, forest green and deep burgundy. Imagine a cabin dusted in fresh snow as you enter a rich wooden wonderland of evergreen branches, red berries, and pinecones illuminated by rustic antler chandeliers. Food options can similarly express warmth and comfort, such as a hot chocolate bar, a chili or soup station, or hot toddies passed as guests arrive.
Vintage Charm

Elegance and family history is infused to create this vintage charm theme. Dig into the box of vintage holiday décor, and let your party be inspired by creations of the past! Whether they be silver, gold or champagne, ornaments are a key design feature. Specifically those with distressed finishes, characteristic of handmade mercury glass ornaments, complete the nostalgic essence. Navy, burgundy and evergreen accents can be incorporated throughout the décor or linens. Drinks can be served in antique style crystal glassware, alongside classic holiday dishes. Mimic grandma's cooking through traditional carved meat dishes of pork, ham or beef, in combination with classic side dishes. For the desserts, bring out the vintage cookie cutters to form your buttery shortbread cookies and accompany with a traditional spice cake, including raisins, cranberries and nuts.
Elegant and Luminous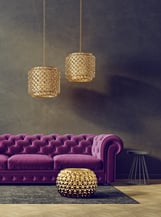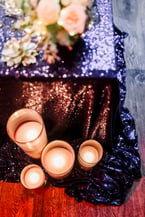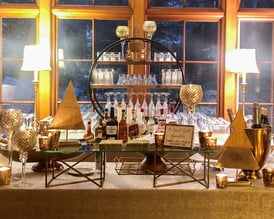 Grand venues often demand opulent holiday themes. "Luminous" not only references the effect created from metallic or iridescent surfaces, but also glamorous purple, gold, and blue tones. Mix in plush fabrics sprinkled with sequins, gold and purple hanging ornaments, as well as funky over sized lounge furniture. This trend takes on a modern, elegant and glamorous aesthetic, allowing for sophisticated and dainty food and drink pairings. For drinks, this could include a champagne cocktail rimmed in crystalline gold sugar, followed by appetizers passed on gold and purple trays adorned with shiny ornaments. Sophisticated hors d'oeuvres pair well with the elegant theme, such as tuna tartare, prosciutto wrapped figs, oysters Rockefeller, steak tartare, or duck confit. Finish with mini cheesecakes and sparkling sugar dipped strawberries.
Mixing Metals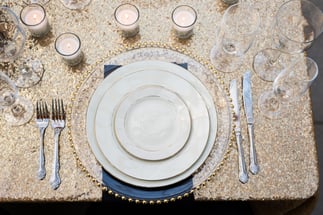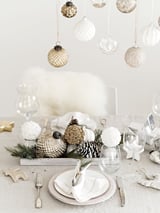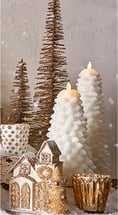 Perhaps inspired by Yukon Cornelius's classic tune "Silver and Gold", mixing metals has become a staple not only for fashion accessories, but also for holiday décor. Taking on a rustic minimalism, silver and gold accents are paired with natural evergreen and light wood varieties. Metallic elements can be incorporated into candles, hanging ornaments, silverware, floral arrangements, napkins and plates, and glassware. Top silver platters with a signature drink featuring gold glitter rimmed glasses. Create a dessert display of silver glitter and gold accented desserts such as truffles, French Macaroons, and cake pops.
Theme and decor ideas are endless for your holiday celebration. Our design experts can work with you to bring your vision to life with everything from menu selections to custom table designs.
---