---
If you love sweets as much as we do it can be difficult to choose just one dessert to try! This weekend we served a trio of our most popular cheesecakes to give the guests a variety of different flavors. We artfully plated three mini cheesecakes- banana foster, citrus and dark chocolate for their pleasure. Try this new york style cheesecake recipe at home or for your next party!
New York Style Cheesecake
Makes 14-16 Bite Sized Cheesecakes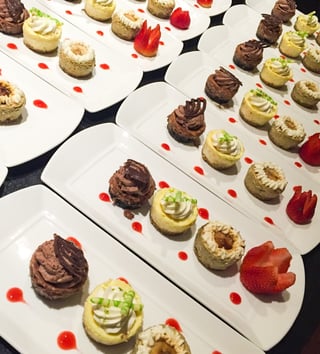 Ingredients
Make sure all ingredients are room temperature
2.5 cups graham cracker crumbs
1/4 c melted butter
1/8 c sugar
1lb of cream cheese
1 cup of sugar
3 eggs
1 cup of sour cream
1TB vanilla
Directions:
Preheat oven to 350°.
Mix 2.5 cups of graham cracker crumbs with 1/8 cup of sugar. Pour the melted butter into the graham cracker crumbs and sugar. Mix with a fork. Scoop mixture into bottom paper lined muffin tins. Push the crumbs down with a flat object. (Ex. Bottom of a glass).
In an electric mixer with the paddle attachment mix the cream cheese until smooth. Then add the sugar until smooth. Add eggs one at a time mixing until each is incorporated. Add vanilla. Add the sour cream until the cheesecake is smooth and creamy. Pour into prepared pan.
Bake for 25-30 minutes or until the whole cheesecake giggles all at once. Cool until room temperature. Refrigerate for 2-3 hours and then pop out of the pan. Decorate as you like and enjoy!