No Mocking These Graduate Inspired Mocktails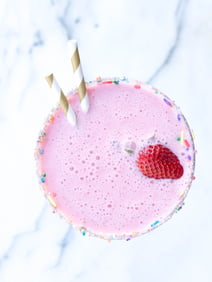 Having a Summer Graduation party? Looking for some unique, alcohol-free beverages that the whole crowd can enjoy? Consider having a "mocktail" bar. Mocktails are fun, flavorful, hand-crafted beverages that contain zero alcohol making this a no-brainer for a high-school-aged crowd of graduates. As for the adults? Good luck keeping them away from these delicious and refreshing drinks!

Class of 2018
Cotton candy - enough to fill an 8oz glass
Raspberry or Regular Gingerale
Cherry or Raspberry Garnish

Crafting Your Mocktail:

Set out your martini glass. For optional flare, lightly wet the rim your glass with a lemon wedge and dip in colored sugar. Then place one piece of cotton candy in each glass. Pour the ginger ale over the cotton candy and top with cherry before serving.

The Adventure Awaits
3 TBS Water
2 TBS White Sugar
1 TSP Coconut Extract
2- 12 oz Cans of Lemon Lime Soda
Blue Food Coloring
Swedish Fish for Garnish
Crafting Your Mocktail:
1. Make the simple syrup by combining the water and sugar together and heating in the microwave for 30-60 seconds or boil togher in a pot on the stove. Let cool.
2. In a pitcher or punch bowl combine the simple syrup, soda, coconut extract and food coloring.
3. Add in swedish fish for garnish and serve over ice.
The Strawberry Celebration
1 Cup Strawberry Yogurt
1 Cup Vanilla Almond Milk
2 Cups Frozen Strawberries
2 TBS Lemon Juice
Sprinkles and Fresh Strawberries for Garnish
Crafting Your Mocktail:
1. Place all ingredients in a blender
2. Blend on high for 2 minutes or until smooth.
3. Wet the rim of glass with a lemon wedge then dip in sprinkles. Pour in mixture from blender. Garnish with a strawberry and enjoy!
For more festive details, consider adding colorful straws in the graduates school colors or use graduation cap picks as garnish. An interesting glass such as a mason jar or a fun-shaped plastic cup makes for a great presentation.