Oystering with John Lawrence, Co- Owner of Peppers
One Sunday afternoon while sauntering down the path to Mayo Beach in Wellfleet with fellow chef and friend, Mark, I was suddenly struck by the spread of oyster cages as far as the eye could see. Imagine - 250 acres of pristine ocean with fast churning tides and wire racks spread out like rows of corn. Oyster nirvana for us oyster guys.
Wellfleet's shellfish industry brings in over $5.8 million to the local economy. Although, 250 acres would make one wonder, is it sustainable? Well great news, Wellfleet and its farmers are all about sustainability. Each and every oyster is primed, sorted, and looked over at least a half dozen times before it goes to the market. During one of our recent visits, tour guide Alanna McGovern explained that the waters in and around Wellfleet are consistently tested to stay on top of any potential anomalies before they become an issue. The town of Wellfleet is also very careful to not introduce any bacteria to the waters, and the entire area is unspoiled and simply gorgeous.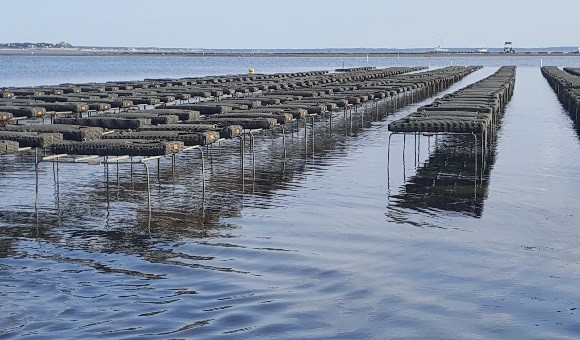 Mark and I look forward to getting out in Bourne to rake for oysters when the Sunday tides line up come November. It's an inexact science; like many who do foraging, sometimes you hit it right and sometimes it just doesn't happen.
During one of our recent tours we visited Andy Cummings at his "Wash-AShore Oyster Ranch." It was quite a sight to watch Andy and his assistant go through hundreds of oysters. Each one was scraped clean of anything attached, a little rounded trim at the hinge, and then sorted by size and beauty. It was such a smooth and careful operation.
Also joining us on this tour was, Michelle Insley, Executive Director of S.P.A.T. Michele was terrific in her correspondence prior to our visit, and it was lovely to chat it up about the Wellfleet oyster industry.
I've tried to visit most farms and suppliers which we support. Without a doubt, the hundreds of Wellfleet farmers and hundreds of aligned businesses have my support as they complete this long journey from a spat hatchery to bringing the oyster to your table. They earn every dollar spent on such terrific Massachusetts oysters.
My hat's off to those in Massachusetts who give it their all raising oysters and to Wellfleet for arguably some of the most distinct oysters in our fine state.
By John Lawrence
---