THE PEPPERS SALES TEAM'S FAVORITE COOKIE RECIPES
Our Sales Team shares their favorite recipes to bring to a holiday cookie exchange. Enjoy and happy baking!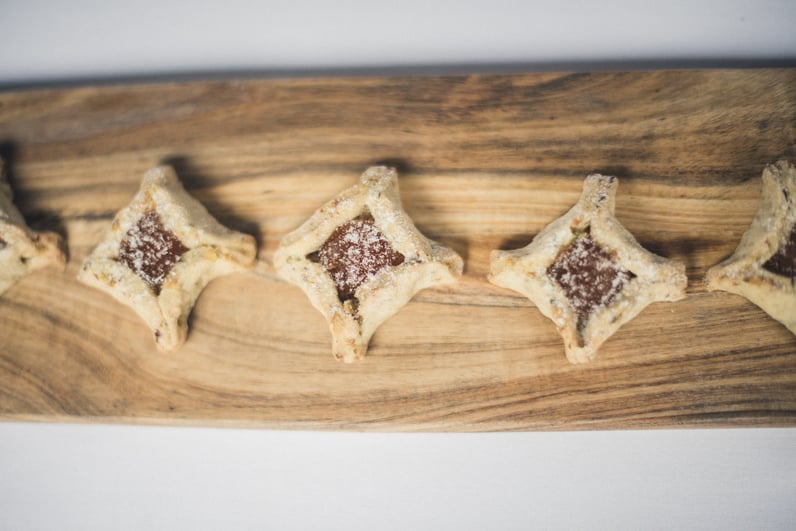 Jody: Old Fashioned Ginger Cookies
Ingredients
½ cup shortening
½ cup sugar, plus more for rolling
1 cup mild molasses
2 TBSP milk
1 TBSP ground ginger
1 tsp salt
1 tsp baking soda
½ tsp ground cloves
½ ground cinnamon
¼ tsp. ground nutmeg
2 & ½ cups all-purpose flour
Steps
1. Prevent oven to 350 degrees. Line two cookie sheets with parchment paper.
2. In large mixing bowl beat shortening with electric mixer for about 30 seconds.
3. Add sugar, beat until light. Add molasses, milk, ginger, salt, baking soda, cloves, cinnamon and nutmeg. Beat until combined
4. Beat in flour until combined.
5. Shape dough into about 48 1 and ¼ inch balls, roll in the additional sugar. Place about 2 inches apart on parchment paper lined cookie sheets.
Flatten slightly. Bake 10 – 12 minutes until edges are firm. Cool on wire rack.
*perfect compliment to our Holiday Moscow Mule Recipe!
Melissa: Soft and Chewy White Chocolate Cranberry Cookies
Ingredients
¾ cup unsalted butter, at room temperature
½ cup brown sugar
½ cup white sugar
1 Tbsp vanilla extract
1 egg
2 cups all-purpose flour
2 tsp cornstarch
1 tsp baking soda
Pinch salt
1 cup dried cranberries
1 cup white chocolate chips
In the bowl of a stand mixer, beat together the butter, brown sugar & white sugar with the paddle attachment until light and fluffy. Beat in the vanilla and egg.
Combine the flour, cornstarch, baking soda and pinch of salt in a seperate bowl then beat into the mixture in the stand mixer until combined.
Stir in the cranberries and white chocolate.
Refrigerate the cookie dough for at least 1 hour. You can chill it overnight if you'd like, but one hour chill time is mandatory to prevent cookies from spreading and to create that light, soft and chewy texture.
Preheat oven to 350 degrees F. Line two baking sheets with silicone liners or mist lightly with cooking spray. Remove chilled dough from fridge and roll into tablespoon sized balls. Place onto the cookie sheets about 1-2" apart from one another.
Bake for approx. 8-10 minutes, rotating pans halfway through baking time to ensure an even cook. Cookies may appear slightly undone but they will continue to set as they cool. After 10 minutes transfer cookies to a wire rack to cool completely.
Patricia: Triple Chocolate Candy Cane Cookies
Ingredients
3/4 cup butter, softened

1 cup sugar

1 large egg

1 3/4 cups all-purpose flour

1/2 cup baking cocoa

1/4 teaspoon salt

1/4 teaspoon baking soda

3 ounces white baking chocolate, chopped

2 teaspoons canola oil

3 ounces semisweet chocolate, chopped

1/4 cup crushed candy canes (about 10 miniature)
Steps
1.
Preheat oven to 350°. In a small bowl, cream butter and sugar until light and fluffy. Beat in egg. In another bowl, whisk flour, cocoa, salt and baking soda; gradually beat into creamed mixture.


2.
Shape dough into 1-in. balls; place 2 in. apart on ungreased baking sheets. Flatten to 2-in. rounds with the bottom of a glass. Bake 6-8 minutes or until set (do not overbake). Cool on pans 5 minutes. Remove to wire racks to cool completely.


3.
In a microwave, melt white chocolate with 1 teaspoon oil; stir until smooth. Drizzle over cookies. Repeat with semisweet chocolate and remaining oil. Sprinkle tops with crushed candy canes; let stand until set.

Yield:

about 3 dozen.
Liz: Oatmeal White Cranberry and Chocolate Cookies
Ingredients