---
Find the Perfect Venue to Host Your Holiday Party

Whether planning a small intimate party for under 50 or an extravagant holiday soiree for 300, the following list of venues, museums, and historical spaces will provide the perfect backdrop for your corporate holiday party. Our list features venues from Boston, Worcester, Rhode Island, and beyond. Find the perfect location to host your next event no matter the size or location.
70 Guests and Under

Tower Hill Botanic Garden (Boylston, MA)
Tower Hill Botanic Garden offers an intimate setting for groups of 50 or less. Every winter Tower Hill decks out their expansive gardens with colorful lights and stunning holiday decorations. This draws thousands of visitors every winter. Combine your holiday party with their annual holiday light show for a truly festive celebration.

The Pierce House (Lincoln, MA)
The Pierce House provides a beautiful historic setting for your holiday party. The house is full of

charm and elegance with uniquely decorated rooms, polished hardwood floors, working fireplaces and more. They can accommodate groups of 70 or less on the main floor of the house. Just 30 minutes from Boston The Pierce House is an ideal spot for those looking to stay close to the city but want to avoid the holiday traffic within the city.

The Worcester Historical Museum (Worcester, MA)
Worcester Historical Museum provides a setting that blends the history of the community with your event. The Marion S. and Paris Fletcher Auditorium are filled with historical elegance, showcasing a collection of 19th century portraiture and a wall of stained glass that details the settlement of Worcester. The open space of the auditorium provides a flexible space for various styles of holiday parties.
Grand View Farm (Burlington, MA)
Grand View Farm and Marion Tavern is a delightful place to host your family or corporate holiday parties. This warm, versatile venue provides a range of options at an affordable price. Each room has its own character, with all the comfort of home, but the convenience of Burlington's charming downtown location. The Hall, which seats 100, is a modernized replica of the 19th Century barn. Marion Tavern has multiple rooms on the first floor to accommodate groups of 70 or less.
Asa Waters Mansion (Millbury MA)


Asa Waters Mansion provides an elegant, intimate and festive setting for your special event. This stately nineteenth-century home makes for an inviting atmosphere for holiday parties. They can accommodate up to 85 guests for a sit down event or 100 with a cocktail style party.

Gore Place (Waltham, MA)
Gore place provides

natural beauty, New England charm, and privacy of a 50-acre country estate. The carriage house and adjoining harness room have been renovated and boast of modern elegance. With ample parking and a beautiful setting, Gore place provides an excellent space for hosting your holiday party up for up to 100 guests.
The Worcester Art Museum (Worcester, MA)


The Worcester Art Museum offers architecturally beautiful grand spaces, over 35,000 works of art, and 50 centuries of creative spirit for your holiday party. Usage of the Renaissance Court can grant your invitees access to a wealth of history and art among the first floor galleries or add in a docent lead tour of the museums galleries. With various spaces from the museum cafe to the Renaissance Court and balconies, WAM can accommodate a range of groups from 50 - 200 and provides a space full of charm for your holiday celebration.

Commanders Mansion (Watertown, MA)
Commanders Mansion

stands upon seven acres of beautiful land in Watertown, MA. The mansion is an impressive example of Italianate-Victorian architecture and exhibits intricate details both inside and out. They can accommodate 100-130 for a seated dinner or up to 150 for a cocktail style reception on the first floor of the mansion.

Discovery Museum (Acton, MA)
Science, nature and play are combined at the Discovery Museum, a hands-on museum dedicated to fostering lifelong learning in children and adults. The museum features a whimsical yet natural theme suited to a joyful holiday gathering. There are also various spaces to allow for a wide range of party sizes, from 30 - 300. For a more intimate setting, the Party Room accommodates up to 30 guests. For larger groups and large holiday events, guests can choose to rent specific rooms or floors of the museum, or even choose to utilize the entire building.
Hopkinton Center for the Arts (Hopkinton, MA)
The HCA has been completely renovated and offers various spaces for either an imitate celebration or a large holiday party. The performance center features an open floor plan, stunning wood beams, climate-control, and hard wood floors. This is the largest space in the arts center accommodating up to 150 guests for a seated reception or up to 250 with mixed seating. Adjacent is the lobby with a built in bar, walls of art, rustic accents and a granite welcome desk. They also have a rustic style loft that is perfect for smaller gatherings of 60 guests or less.
The Endicott Estate (Dedham, MA)
The Endicott Estate, built in 1904, features a 3 story, 25 room Colonial Revival mansion situated on 18 acres of land. The indoor spaces found within the mansion are ideal for gatherings during the winter months, complete with period furnishings and cozy fireplaces perfect for a vintage style holiday party. The rooms of the mansion are equipped to serve a plated dinner for up to 150 guests, or 200 guests in a cocktail reception arrangement.
The Society of Arts and Crafts (Boston)
The Society of Arts and Crafts provides a space unlike no other in the Boston Area. Host your event surrounded by a rotating array of one-of-a-kind crafts and large windows overlooking the seaport district. Guests can even pop into the gift shop to pick up a unique holiday gift. The space can accommodate up to 150 guests for a cocktail style reception with food stations.
150-200 Guests

The Connors Center (Dover, MA)
The Connors Center provides a large estate complete with stunning stone architecture that, when the first snow of winter falls, appears to have been taken straight out of a classic story book. The historic interior of the estate offers a selection of rooms and spaces, some of which include wood paneling, luxurious furniture and fireplaces to create a warm and welcoming atmosphere. The largest space is the Estate Room, allowing for 150 - 200 guests, followed by the Main Parlor, Dining Room, Charles River Meeting Room and Garden Terrace Room. The smallest space is the Dover Parlor, with a capacity of 18 - 45 guests.
Charles River Museum of Industry (Waltham, MA)
The Charles River Museum of Industry and Innovation is a historic gem of the Greater Boston area. Once a 19th century textile mill, the venue features stunning views of the Charles River and an old world industrial flair reminiscent of holiday seasons passed. The open, brick-walled event area can accommodate from 150-250 guests, depending on the style of seating, from sit-down to mixed and cocktail seating.
deCordova Sculpture Park and Museum (Lincoln, MA)
The deCordova Sculpture Park and Museum is dedicated to showcasing contemporary art from New England and beyond, including its Sculpture Park of more than 60 works and over 3,500 artworks in its permanent collection. For a modern and sleek holiday event, deDordova offers the Dewey Family Gallery, which houses works from their permanent collection as well as select exhibitions, allowing for a maximum of 130 guests for a seated event and 200 guests for a cocktail style event.
Harry Parker Boathouse (Brighton, MA)
The Harry Parker Boathouse, home of the Boston College rowing team, combines interior spaces featuring unique architectural design with outdoor views and natural charm. Holiday events have the opportunity to utilize the Community Room on the second floor as well as experience the beauty of New England winters by gazing over the two balconies overlooking the Charles River. Traditional seating in the Community Room can accommodate 180 - 200 guests, or up to 220 for a cocktail reception arrangement.
The Hanover Theatre (Worcester, MA)
Bring an old world theatrical elegance to your holiday events at The Hanover Theatre. The most intimate space accommodating up to 150 guests, the Historic Lobby, lends itself to a classic holiday theme with traditional and historic elements such as chandeliers, antique mirrors and a grand staircase. The Event Center and the Grand Promenade can additionally seat up to 250 guests. The Theatre Stage can seat up to 300 guests and will be sure to infuse sparkle and glamour to any holiday party.
The White Room (Worcester, MA)
Created as an event space by Crompton Collective, a curated boutique marketplace, The White Room provides a clean blank slate to allow for creative freedom. Yet, the space lends itself to a vintage yet eclectic holiday theme, apparent from the industrial exposed ceiling and the use of mismatched wooden seating.
Village Hall at the Common (Framingham, MA)
The newly renovated Village Hall at the Common provides a beautiful setting for a holiday party for up to 180 guests for a seated event or 200 for a cocktail style party. For smaller groups the first floor with built in bar would be an ideal space. Guests can utilize both floors - start with a cocktail reception on the first floor then move up to the second for dinner. Framingham residents can take advantage of discount rental rates.


200 + Guests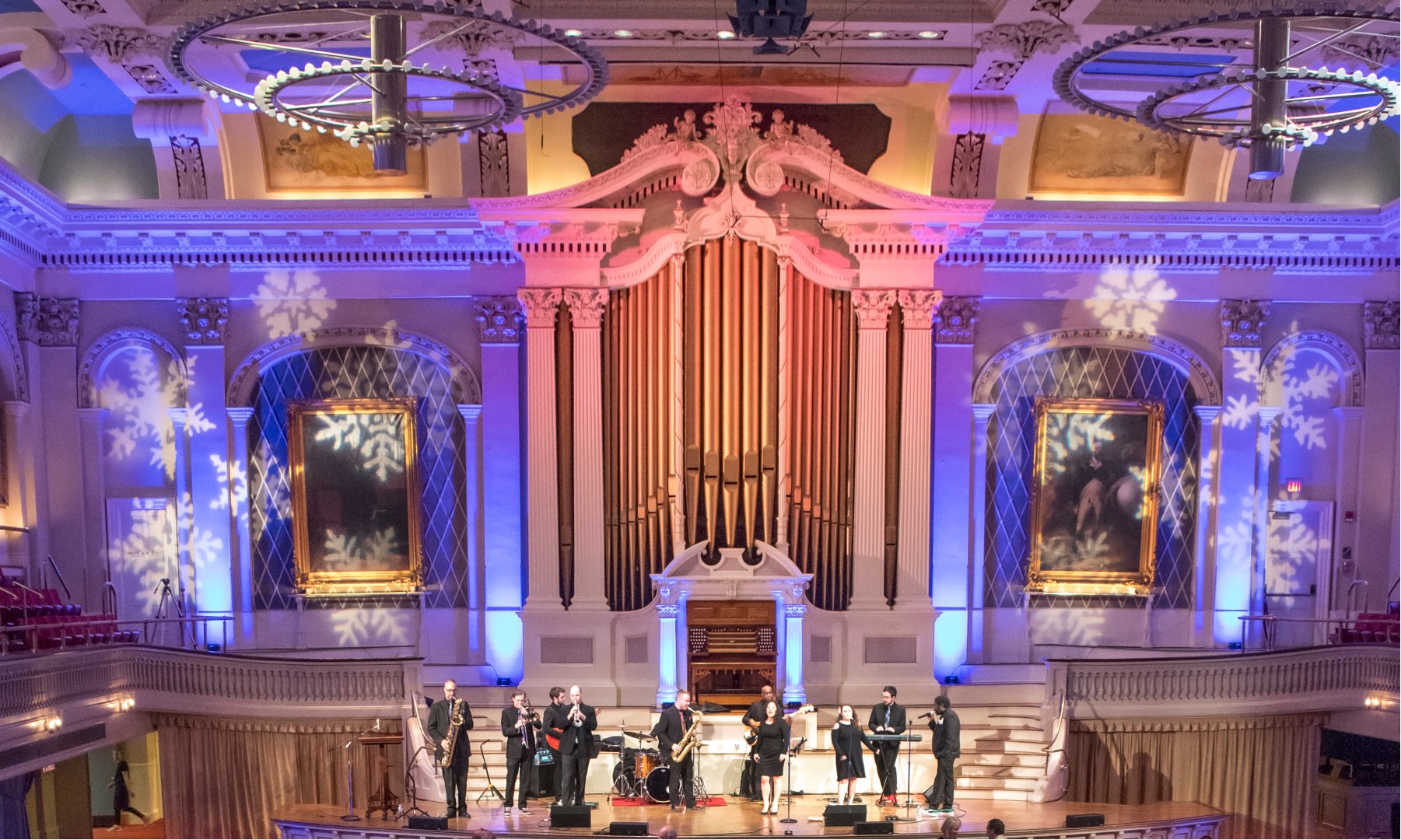 Mechanics Hall (Worcester, MA)
Mechanics Hall is one of the largest and most awe-inspiring venues in Central Mass in terms of space and decadent decoration. In total, the venue can accommodate anywhere from 10 to 1,000 guests depending on the style of party, and includes a choice of 5 function rooms. The Great Hall is the most recognizable space, with its coffered ceiling and grand center stage. Next is Washburn Hall with its arched windows, bar and smaller scale stage. In addition, more intimate holiday gatherings can be arranged in the Boyden Salon or the Dickens Room.
Killburn Mill Event Center (New Bedford, MA)
Located on the third floor of the 113 year old Killburn cotton mill, the Event Center boasts large windows enriching the large hall with plenty of natural light and panoramic views of Clark's Cove below. Be ready to surround yourself with views of the New England winter season, all while being able to accommodate a wide range of guests, from 50 - 500.
The Ballroom at the Providence G (Providence, RI)
The Ballroom at the Providence G presents a space worthy of grand and elegant holiday parties, with its crisp white walls, tall windows, and crystal chandeliers. Creativity is encouraged in this space, as the layout, theme and color scheme can be molded to match each host's unique vision for their holiday gathering. With traditional seating and a dance floor, 250 guests can be accommodated, with a maximum of 350 guests for a cocktail style event.