Wedding Brunch Reception Menu Ideas and Tips
For our brunch lovers out there—you will be excited to hear that brunches are hitting the wedding scene! There are so many ways to create a fun and memorable wedding brunch reception—whether going for a more formal or casual vibe.
Food stations and cocktail receptions work well for this style of wedding. Guests can try a wide variety of brunch-inspired dishes in a setting that encourages mingling and socializing.
The Beverages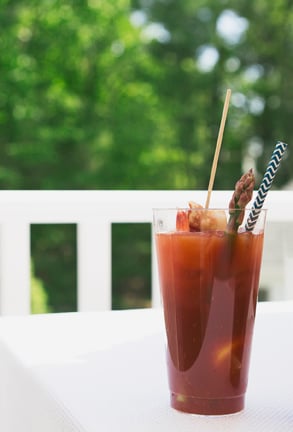 Welcome Drinks create a wonderful first impression at the reception. Greet your guests with a colorful mimosa, sweet tea, smoothie shot, or mini coffee with a donut hole garnish. For an extra wow factor consider a drink wall to display mimosas or mocktails in a fun grab-and-go presentation.
Beverage Stations are a great way to let guests enjoy beverages as they wish throughout the reception and can include a DIY customization component. For a brunch wedding, we especially love an espresso coffee cart or a specialty drink bar—mimosas, bloody mary's, or smoothies!
photo: gwendolyn pellegrino photography
The Menu
Food Stations work wonderfully for brunch-style menus. The options are endless and there are many ways to take classic dishes and elevate their presentation.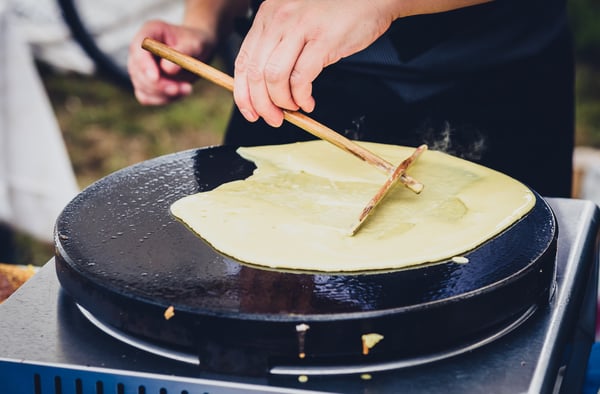 Waffle Bars with freshly made waffles served with a variety of delicious toppings such as whipped cream, strawberry sauce, chocolate sauce, bananas, chocolate chips, and nuts.

Crepe Stations with a chef making warm crepes on request for your guests with sweet fillings such as nutella, chocolate sauce, bananas, and mascarpone cheese—or savory fillings like spinach, ham, or chicken.

Smoothie Bowls are becoming a very popular food trend. These are great if you're looking for a menu on the healthier side. Offer a variety of smoothie bases with toppings such as coconut flakes, chia seeds, berries and fruit, nuts, seeds, and granola.

Bacon Planks may be on the opposite side of the health spectrum but are always a crowd favorite. Elevate this presentation by serving the bacon hanging where guests can select their own pieces.

Yogurt and Berry Parfaits served in martini glasses for a more upscale feeling.

Donut Bars with your favorite donuts displayed on a custom donut wall or off our market cart for a unique presentation.

Pass mini versions of your favorite brunch dishes to allow your guests to try a wide variety of options in bite size. Here are a few of our favorites..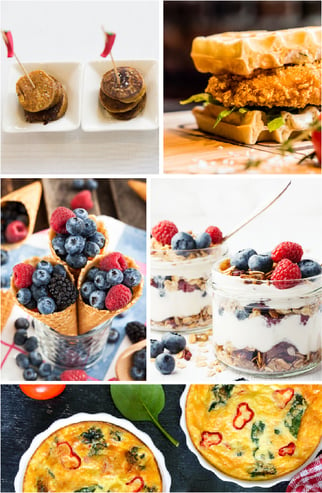 Bacon, Egg and Cheese Croissants
French Toast Sticks Served in Maple Syrup Dipper Cups
Mini Pancake Bites
Chicken and Waffle Sliders
Frittatas Baked in Individual Casserole Dishes
Fruit Waffle Cones

Mini Mason Jars Filled with Salad
Cereal Milk with a Donut Hole
Breakfast Pizzas
Savory Macaroons with Salmon and Cream Cheese


The Cake
For your wedding cake opt for a small ceremonial cutting cake or a stacked waffle cake and then offer a dessert bar for your guests enjoyment. Donut bars, patisserie bars, mini trifles, make your own strawberry shortbread, macaroons and tea, and fruit tart stations are excellent options for a sweet ending to your brunch reception.
Decor and Entertainment
Lawn Games are a great entertainment option for an early afternoon or morning wedding. There are a variety of game options these days such as life size jenga, cornhole, ladder toss, and giant connect four. Have your cornhole board double as a guest book with a custom monogram and have your guests sign it!

When it comes to designing the color and look for your wedding reception consider incorporating pops of brightly colored florals - like coral, yellow, orange or pink. Another way to incorporate color is through your linen choices. Patterns are especially fun to add into the mix and can really enhance the look of the room.



Photos left to right - Meghann Gregory Photography, Lindsay Hackney Photography, Alvah Reida Photography
Now who's ready to start their wedding reception off with a mimosa toast!?