Chef John and Chef Paul are getting ready to go head-to-head in the I'll Top That! battle at The Clarke Culinary Center in Milford on February 17th. Chef John will prepare three vegetarian dishes only to be "topped" by Chef Paul with a meat or seafood item. We put them to the test a little early so that you could have a sample of what's to come. Stop by and route for you favorite and enjoy some delicious food too!
Vegetable Tagine
3 fennel bulbs, washed and cut to 5/8-inch thick
3 bell peppers (red, yellow, green)
¾ cup olive oil
12 pearl onions, peeled
6 whole garlic cloves, peeled
3 baby egglplant or 1 medium Eggplant, cut into thick strips (2" x ½" x ½")
3 zucchini, cut into ¾-inch cubes
12 cherry tomatoes (medium size)
2 sprigs thyme
1 sprig savory
24 fava beans, preferably fresh, skinned or ½ cup shelled edamame
Salt and pepper to taste
Fresh cilantro leaves to garnish (1 bunch)
DIRECTIONS
Blanch fennel in boiling water, refresh in cold water and drain. Cut the peppers into 1-1/4 inch squares.
Pour a third of the olive oil into a tagine or heavy casserole. Add onions and sweat over a medium heat for 5 minutes (do not put earthenware tagine on an open flame, use a heat diffuser). Add garlic and peppers and cook for 10 minutes, stirring from time to time to bring vegetables to the middle of the tagine. Add eggplant and blanced fennel. Add a little salt and pour another third of the oil over the vegetables. Cover tagine or casserole and let simmer gently over medium heat for 15 minutes.
Stir gently to bring vegetable to the middle of the tagine, then add zucchini, tomatoes, thyme, savory and all but 2 tablespoons of the remaining oil. Cover and cook for another 30-40 minutes on very low heat, or in the oven at 325 degrees, until vegetables are done to your liking.
Scatter on fava beans and cilantro leaves and serve.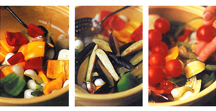 I'll TOP THAT! STEAMED LITTLENECK CLAMS WITH GARLIC & PANCETTA
36 littleneck clams, cleaned & scrubed
4 garlic cloves, chopped
8 ounces pancetta, diced
¼ cup white wine
Pinch of saffron
Juice from two freshly squeezed lemons (remove seeds)
DIRECTIONS
In a straight-sided sauté pan over medium heat, slowly render the fat from the pancetta, cooking until crisp (do not burn). Remove pancetta pieces and place on paper towel.
Add garlic to the pan and sauté for 1 minute, then add white wine, saffron and lemon juice and stir. Add clams and reduce heat. Cover and steam for 8-10 minutes or until clams begin to open. Discard any unopened clams before serving.
To serve, place clams and juice around vegetables from tagine. Garnish with fresh cilantro leaves.
Yeilds: 6 servings