By Liz O.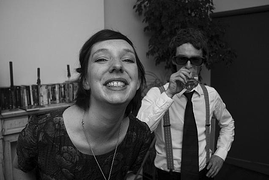 I recently read an article that proclaimed cocktail parties are making a comeback. We suspect the AMC hit TV series, Mad Men may have something to do with that!
"Mad Men" is a term coined in the '60s for men who worked in the advertising industry on Madison Avenue in New York. Watching the show, one is instantly transported back to the time when typewriters were high-tech, television was in black and white, and the go-to cocktail party delicacies were stuffed celery and deviled eggs. We've come a long way since then, but it's fun to look back--especially in the form of a party.
Want to host a Mad Men party? AMC's website features a How to Throw a Mad Men Party section, a resource that can be a great starting place.
The team at Pepper's wanted to throw in our 2 cents as well. Below are our party tips for hosting the perfect swingin' 1960s party.
First, be sure to dress the part, and include on your invitation that partygoers do the same. Tea length dresses and fedoras are a must. You can go the Betty route and wear something with crinoline (the frothy netting under 1960s evening dresses) to make a statement. Or take the Joan approach to fashion and wear a form-fitting dress that hits mid-calf.
When it comes to the meal, hiring cocktail party caterers like the team at Pepper's will ensure your bar is fully stocked—not just with the right alcohol, but appropriate glassware for martini and Manhattan drinkers. Since Cocktail parties are typically shorter in length (2 or 3 hours) stick to simple, small bites and possibly an active chef station or two (stations which guests can float between to grab goodies. For further inspiration, check out our suggested cocktail party menu.
Be sure to keep a few bowls of mixed nuts around, so your guests can do a little snacking in between doing the twist. A party soundtrack goes a long way towards setting the scene. Artists such as Chubby Checker, The Beatles, Temptations and the Four Tops will provide the era appropriate tunes you'll need to get your guests on their feet and transport them back to the 1960's.
Combine these tips with a terrific guest list and you're sure to swing in '60s style!
Photo credit: Zandwacht